WATCH AS OBAMA TELLS ILLEGAL ALIENS TO VOTE! DURING TV INTERVIEW, OBAMA TELLS ILLEGALS NOT TO WORRY ABOUT GETTING CAUGHT OR PUNISHED, BECAUSE THE GOVERNMENT WON'T CHECK — AND WON'T PURSUE ILLEGALS EVEN IF THEY ACCIDENTALLY GET CAUGHT!
WATCH OBAMA (AND THE PRESSTITUTE INTERVIEWING HIM) CALL ILLEGAL ALIENS EVERY TERM EXCEPT WHAT THEY ARE. THEY CALL ILLEGAL ALIENS 'DREAMERS' AND VARIOUS HAPPY-SOUNDING TERMS, BUT NEVER SAY THE TRUTH (ILLEGAL ALIEN).
THIS REGIME IS A PACK OF SICK PERVERTS AND TRAITORS WHO MUST STEAL THE ELECTION — OTHERWISE, THEY'LL LIKELY SPEND LIFE IN PRISON. ONCE NYPD/FBI EVIDENCE IS EXPOSED TO THE PUBLIC, OUTRAGE WILL FORCE SOMEONE, SOMEWHERE, TO HOLD THIS OUTLAW REGIME OF WAR CRIMINALS ACCOUNTABLE FOR THEIR HORRIFYING CRIMES.
THIS REGIME'S ONLY HOPE IS USING ILLEGAL ALIENS AND RIGGED POLLS TO STEAL THE ELECTION THRU VOTER FRAUD.
HOW TO CATCH ILLEGAL ALIENS VOTING
FOR UPDATES, SUBSCRIBE TO 'BARRY SOETORO' CHANNEL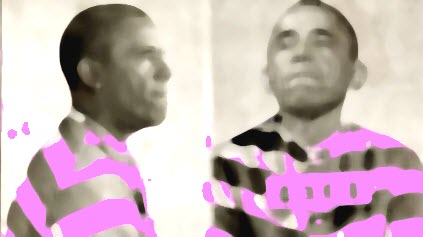 We encourage you to Share our Reports, Analyses, Breaking News and Videos. Simply Click your Favorite Social Media Button and Share.