SECRET SERVICE SAVES DONALD TRUMP FROM AN ARMED ASSASSIN IN RENO (NV)! GUNMAN GETS TACKLED BY COPS AND TRUMP FANS — AND BEATEN BY ANGRY SUPPORTERS!
THESE COPS DON'T WANT TO WORK UNDER 'PRESIDENT PARKINSON'S' AKA HILLARY CLINTON — AFTER SHE STEALS THE RIGGED 2016 ELECTION.
WATCH THE ASSASSIN GET CUFFED, THEN DRAGGED OUT OF THE VENUE. SHARP PHOTO SHOWS THE ATTACKER'S FACE AS HE'S HAULED AWAY BY HEAVILY ARMED POLICE.
ALSO SEE DONALD TRUMP GET RUSHED OFF STAGE AS SECRET SERVICE LEAPS INTO ACTION.
IS THE REGIME DESPERATE ENOUGH TO KILL DONALD TRUMP? WOULD MURDERING TRUMP SAVE HILLARY CLINTON'S SICK PERVERTS FROM TREASON CHARGES AND LIFE IN PRISON FOR CHILD TRAFFICKING?
OR DOES NYPD HAVE ENOUGH HARD EVIDENCE TO PUT HILLARY'S CRIMINAL CABAL IN PRISON FOREVER — NO MATTER WHO WINS THE WHITE HOUSE?
ELECTION DAY 2016 IS THREE DAYS AWAY. WILL HILLARY AND GEORGE SOROS RIG THE ELECTION AND STEAL THE PRESIDENCY, OR WILL THE PEOPLE'S WILL BE SERVED?
HILLARY'S ESCAPE PLAN (HOW SHE'LL VANISH)
FOR UPDATES, SUBSCRIBE TO 'BARRY SOETORO' CHANNEL
(UPDATE) DAILY MAIL UK:
Someone in audience shouted "He's got a GUN!" "Two audience members told DailyMail.com they had seen [Austyn] Crites holding a firearm, however that was [NOT] confirmed by law enforcement."
http://www.dailymail.co.uk/news/article-3909514/Donald-Trump-rushed-away-Secret-Service-speaking-Reno-rally.html
UPDATE: BYSTANDER INTERVIEWS CLAIM the man "had a gun in holster" but approximately 4 spectators grabbed him, preventing him "from drawing the gun" until police cuffed and removed him. MORE as story develops.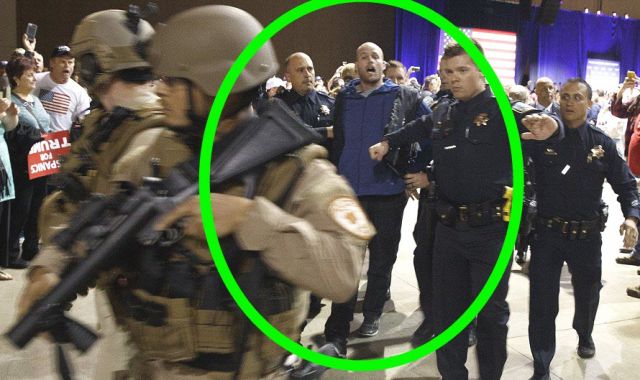 We encourage you to Share our Reports, Analyses, Breaking News and Videos. Simply Click your Favorite Social Media Button and Share.