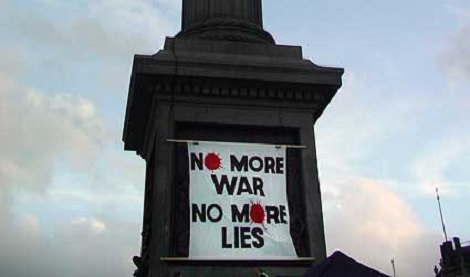 By Deborah Dupré
Americans with little idea about the truth regarding joining the U.S. military could be rocked to the core due to a powerful new video posted Tuesday on the web. President elect Donald Trump could find it to be a game changer. David Icke has encouraged the public to understand the essence of the new video, a message that Nobel Peace Prize Nominee David Swanson is dedicating his life to help people learn.
'Not a single thing that we commonly believe about wars that helps keep them around is true," Icke has written under title of Swanson's book, War Is A Lie. "Wars cannot be good or glorious. Nor can they be justified as a means of achieving peace or anything else of value."
Share this with everyone you know in the United States is the advice given Tuesday by David Swanson, a 2015 and 2016 Nobel Peace Prize Nominee.
"Terrific counter-recruitment video. Watch it. Share it, asserted Swanson in an email to Dupré. "Show it in schools."
Swanson, (seen giving a presentation in the second video below) is not only an author, but also an activist, journalist, and radio host. He is director of WorldBeyondWar.org and campaign coordinator for RootsAction.org. Swanson's articles are posted at DavidSwanson.org and WarIsACrime.org. He hosts Talk Nation Radio.
Dare learn the real reasons that the military suicide rate continues climbing both overseas and upon returning home. Watch the video below, "A Soldier's Life." And if you want yet another dose of truth, open your heart and mind and watch another life-changing video below to learn not only about Swanson, but also, as the title says, "War is a Lie: What Your Tax Dollars Buy."
(A Soldier's Life from CCPJ on Vimeo.)
We encourage you to Share our Reports, Analyses, Breaking News and Videos. Simply Click your Favorite Social Media Button and Share.