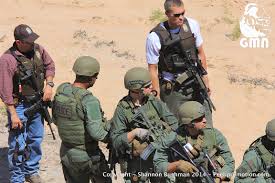 Over this past weekend a brave whistleblower just released BLM Agents dash cam footage proving that it was actually SAC BLM agent Dan Love who was the aggressor and not the peaceful protesters that came to aid the Bundy family on that Sat April 12, 2014 day. In the dash cam video it shows how the Bundy family were in constant negotiation with BLM agents beginning on March 17, 2014. Now we can understand why the government sealed this footage from the media and the American people,for it shows a totally different narrative that the Irrelevant media government mouth pieces have been portraying to the American people with the intention of brainwashing their readers and listeners that the bundy family and it's supporters are Domestic terrorists.
A video surfaced on the internet today showing leaked body and dash cam footage from the Bundy Ranch Protest. The video assembles a concise timeline of how events unfolded, using previously unseen footage from agent's body cameras and patrol vehicle dash-mounted cameras.
In the video, agents can be seen mocking protesters and joking about who or what they should shoot first. Instructions to keep long guns either slung or out of site came from the Sheriff's office. Agents ignored that directive and raised their weapons at protesters.
The content of the video speaks for itself. This is only a fraction of what the government does not want anyone to see. They are culpable for the escalation of tension at Bundy Ranch. This video shows a portion of that truth.Leaked Video Chronicles BLM Aggression At Bundy Ranch | Bundy Ranch Standoff
We encourage you to Share our Reports, Analyses, Breaking News and Videos. Simply Click your Favorite Social Media Button and Share.