https://youtu.be/gIx9gwHqO8c?t=2m29s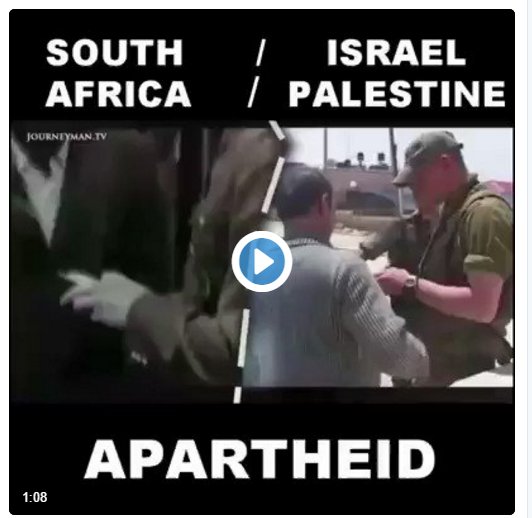 A shocking and revelatory insight into Israel's Apartheid
Available on iTunes:
https://itunes.apple.com/gb/movie/roa…
Google Play:
https://play.google.com/store/movies/…
JMAN.tv:
https://jman.tv/film/4953/Roadmap+to+…
With a comparison between apartheid South Africa and the Israel/Palestine conflict, this doc traces the future of one conflict from the past of another. Weaving the history of apartheid into the complex issues facing Israelis and Palestinians, it highlights the frighteningly similar laws and tools used by Israel and apartheid-era South Africa. It's a dark picture of the present but offers hope based on the peace that South Africa eventually found.
Subscribe to journeyman for daily uploads:
http://www.youtube.com/journeymanpict…
For downloads and more information visit:
http://www.journeyman.tv/film/5620/ro…
Like us on Facebook:
https://www.facebook.com/journeymanpi…
Follow us on Twitter:
https://twitter.com/JourneymanVOD
https://twitter.com/JourneymanNews
Follow us on Instagram:
https://instagram.com/journeymanpictures
Ubuntu Films – Ref. 5620
Every week Journeyman offers a brand new documentary, fresh out of the cutting room. They're award winning documentaries, some destined for the festival circuit and some for broadcast. The one thing you can know is that here you get to see them when they're fresh, often before they appear anywhere else. To watch them in full go to our VOD platform at http://jman.tv
We encourage you to Share our Reports, Analyses, Breaking News and Videos. Simply Click your Favorite Social Media Button and Share.