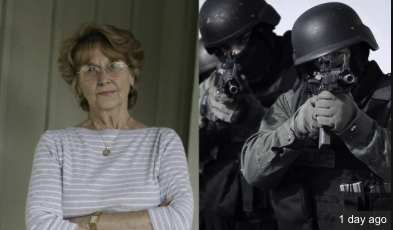 From the annals of you can't make this sh.t up comes a Police State story that in my opinion truly takes the top prize. 75 yr old grandmother Joann Davis had apparently fallen on some hard times, so in order to raise money to support herself she decided to ask NASA if they wanted buy a tiny moon rock that her first husband Robert Davis, who had worked as an engineer on the Apollo 11 mission, had saved. Well apparently NASA wasn't too keen on buying it back from her, instead they set up an undercover operation involving a six man SWAT Team to forcibly seize it instead.
Lake Elsinore, CA — Here at the Free Thought Project, we've seen some outright insanity when it comes to the actions of government and the police state. However, a grandma being raided by a NASA police force so they can steal her dead husband's moon rock, is definitely up there.
When Joann Davis was 75, she hit some hard financial times after finding herself raising grandchildren following her daughter's death and her son's illness. So, being the resourceful grandmother that she is, Davis began to think of ways to earn some extra cash.
Then it hit her.
Her first husband, Robert Davis worked as an Apollo 11 engineer, and he saved a paperweight with moon material and another with a bit of the heat shield. Joann, who had also worked for the space program at the time, came up with the idea that she'd ask NASA if they would like to buy it from her, so she could raise some funds to feed her grandchildren.
Brilliant, right?
Well, to most people with common sense, this is a great idea. However, to the American police state, it's a felony. Now, Davis is attempting to sue officials for the brutal and humiliating treatment she endured at the hands of NASA agents.
http://thefreethoughtproject.com/75-year-old-grandma-raided-nasa-swat-team-steal-moon-rock/
We encourage you to Share our Reports, Analyses, Breaking News and Videos. Simply Click your Favorite Social Media Button and Share.