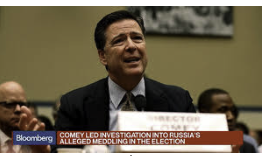 Looks like we won't have too much longer to find out if former FBI director James Comey has any smoking gun evidence proven President Trump attempted to "obstruct Justice" in this so-called Russia colluded with Trump to steal the election fake story that was made up by Robby Mook, and John Podesta as an excuse of why Hillary Clinton lost the election. Sen Richard Burrand Mark warner announced on Friday May 19,2017 that Comey will be testifying some time after the Memorial Day weekend.
Former FBI Director James Comey has agreed to testify in an open hearing before the Senate Intelligence Committee, Chairman Richard Burr announced Friday.
"The committee looks forward to receiving testimony from the former director on his role in the development of the Intelligence Community Assessment on Russian interference in the 2016 US elections, and I am hopeful that he will clarify for the American people recent events that have been broadly reported in the media," Burr said in a statement.
No specific date has been set yet, but the statement said the committee expects the testimony to happen sometime after Memorial Day.
http://www.washingtonexaminer.com/james-comey-agrees-to-testify-in-public-hearing/article/2623680
https://www.youtube.com/embed/1yzyiMPK_eY
http://thepetesantillishow.com
https://www.facebook.com/petesantillinotguilty/
http://thepetesantillishow.com/donate/
We encourage you to Share our Reports, Analyses, Breaking News and Videos. Simply Click your Favorite Social Media Button and Share.