5-19-17
Please check back for videos as this story develops.
American Airlines escorted by two US fighter jets due to Turkish man with computer attempted to break into the cock pit.
American Airlines Needs to make some changes. Are we noticing how OFTEN this happens to this particular airline?
---
From Fox News
Instagram video shows the man being led off the plane in handcuffs. The caption of the video reads, "Crazy! Someone tried to break into the cockpit on my flight from LA to Honolulu. We were greeted by the FBI. They are now taking us off the plane a few rows at a time for dog sniffing and interviews."
BREAKING: Turkey man is subdued after trying to breach cockpit on American Air Flt from LAX to Honolulu https://t.co/aQjEuagqXcpic.twitter.com/ljGQT7ptYf

— Lynn Kawano (@LynnKawano) May 19, 2017
American Airlines has issued the following statement regarding the incident:
American Airlines Flight 31, an Airbus A321 from Los Angeles to Honolulu, landed safety at 11:35 a.m. HST.

Due to a disturbance during the flight, the crew requested that law enforcement meet the aircraft upon landing in Honolulu.

American is in touch with federal law enforcement. As this is an active investigation, please contact the FBI's Honolulu Division.
This is a developing story; refresh for updates.
---
From ABC News
Man subdued after trying to breach cockpit on American Airlines flight to Honolulu
A man was subdued after he tried to breach the cockpit of an American Airlines flight to Honolulu, a source familiar with the situation told ABC News.
American Airlines said in a statement that law enforcement met the plane upon landing in Honolulu following a "disturbance" on the flight. The plane was escorted by two F-22 fighter jets for the duration of the flight following the disturbance, U.S. Pacific Command said in a statement.
A source at the TSA told ABC News that the man was waiting for the bathroom near the cockpit when a flight attendant asked him to sit down. He had a laptop with him and appeared to try the cockpit door before he was subdued, the source said.
The man has been detained, the Department of Homeland Security said in a statement. The DHS is continuing to monitor all flights "out of an abundance of caution," it said.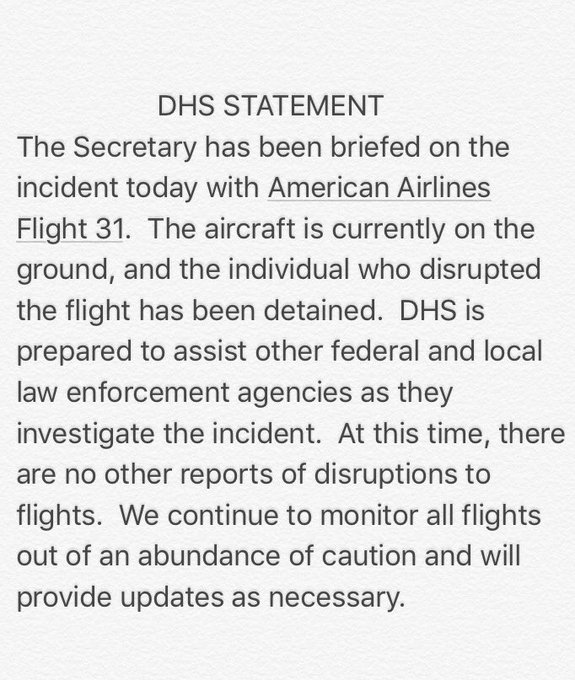 Law enforcement is now responding to analyze a suspicious item associated with the man, a source told ABC News.
Flight 31 from Los Angeles landed safely at 11:35 a.m. local time, according to American Airlines. All passengers are off the plane and safe, and operations at the airport have resumed as normal.
A total of 181 passengers and six crew members were on board, according to the airline.
The incident is under investigation. Halting of all ground movements on the airfield as the flight came in caused a 30-minute backlog, the Department of Transportation said in a statement. The DOT expected the backlog to be resolved by the end of peak travel in the afternoon.
Further details were not immediately available.
---
Sign up for more on my Website and more stories from Jonathan Lee on Before It's News & #followMe on Twitter #CCOT #MAGA #MASA #prophecy
BE SURE TO 'LIKE" BEFORE IT'S NEWS ON THEIR Facebook page: https://www.facebook.com/beforeitsnewscom/
If you like the articles that I share, be sure to click the 'Recommend' Button near the top of the page & I thank you for that in advance. Please leave your comments below!
#beforeitsnews #jonathanlee #viral #trending #followme #christianteaparty #deplorable #alternativenews #altnews#2a #askWL #1a #currentevents #fakenews #proisrael #trump #conservative #watchman #prophecy #paranormal #endtimes
---
We encourage you to Share our Reports, Analyses, Breaking News and Videos. Simply Click your Favorite Social Media Button and Share.