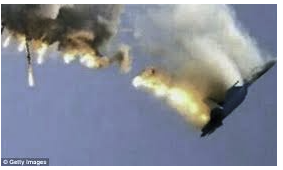 After the U.S led Coalition forces shot down a Syrian fighter Jet that was attacking Isis strongholds, Russia has now issued a grave warning to The United States, and other coalition countries stating that Any flying object in Syrian airspace would now be shot down. This warning constitutes a grave escalation for a potential war with Russia in the Mideast.
Russia has said it will treat US warplanes operating in parts of Syria where its air forces are also present as "targets" amid a diplomatic row caused by the downing of a Syrian jet.
The country's defence ministry said it would track US-led coalition aircraft with missile systems and military aircraft, but stopped short of saying it would shoot them down.
A hotline set up between Russia and the US to prevent mid-air collisions will also be suspended.
All kinds of airborne vehicles, including aircraft and UAVs of the international coalition detected to the west of the Euphrates River will be tracked by the Russian SAM systems as air targets," the Russian Defence Ministry said in a statement.
The warning comes after a US F-18 Super Hornet shot down a Syrian army SU-22 jet on Sunday in the countryside southwest of Raqqa – the first such downing of a Syrian jet by the US since the start of the country's civil war in 2011.
"The shooting down of a Syrian Air Force jet in Syria's airspace is a cynical violation of Syria's sovereignty," the ministry said.
"The US' repeated combat operations under the guise of 'combating terrorism' against the legitimate armed forces of a UN member-country are a flagrant violation of international law and an actual military aggression against the Syrian Arab Republic."
http://www.independent.co.uk/news/world/middle-east/russia-shoot-down-all-flying-objects-in-syria-us-regime-warplane-isis-terror-a7797101.html
http://thepetesantillishow.com
http://thepetesantillishow.com
http://thepetesantillishow.com/donate/
We encourage you to Share our Reports, Analyses, Breaking News and Videos. Simply Click your Favorite Social Media Button and Share.