Headline: Bitcoin & Blockchain Searches Exceed Trump! Blockchain Stocks Are Next!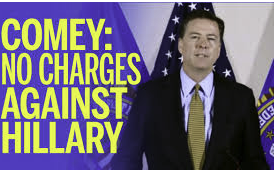 Judicial watch is reporting that former FBI Director James Comey has had Hillary Clintons backup device the whole time. Court records prove that the email storage company Datto,which is based out of Connecticut handed over said device which had five or six disks on it to the FBI on October of 2015. Insiders familiar with the case believe said device could be the smoking gun as it potentially contains every electronic communication that Hillary Clinton sent or received during her time as Secretary Of State.
The FBI handed the device over to the State Department, which has not searched it at all.
"We don't know what the FBI did once they had the device and the information on it. What we know is since the investigation ended in July of last year the material found on that device has been forwarded from the Justice Department to the State Department," Michael Bekesha, a Judicial Watch senior lawyer working the case, told Big League Politics in an exclusive interview.
"I don't know what it suggests. The State Department now has it. We know that the State Department has not gone through it. Five disks of information. It may have been six, the number changed," Bekesha said. "They said there are thousands of records on whatever was turned over from the Datto device and eventually they will get around to reviewing those records and getting them to us in response to our FOIA."
http://investmentwatchblog.com/james-comey-had-hillarys-backup-email-device-the-whole-time/
https://youtu.be/VS2_ZkOCMOk
http://thepetesantillishow.com
https://www.facebook.com/petesantillinotguilty/