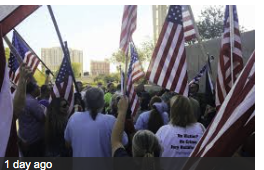 July 15,2017: It seems that the winds of change are finally starting to blow for the Bundy Ranch political prisoners that have been sitting in a federal gulag for almost 18 months, most of which still don't even have a trial date at this time. You ask how can this be possible in the so-called land of the free, and what about these mens speedy trial rights? Well, these trials have never been about fairness, this is a political witch hunt perpetrated by Sen Reids lackeys Judge Gloria Navarro, and acting U.S Attorney Steven Myhre who for months have been suppressing all evidence that would most certainly set these men free. Last night at the Rainbow Gardens located in Las Vegas Nevada a historical event known as #Stand took place. Multiple high powered speakers spoke before a standing room only crowd of Patriotic Americans that traveled from all across our country to help bring some much needed awareness to the plight of our political prisoners. Roger Stone was one of these high powered speakers who brought the crowd to his feed when he declared, "Mr President, it's time to pardon Cliven Bundy, and his Supporters in theme of Justice and mercy".
We at Guerrilla media network do believe that this statement has put an immense amount of pressure on this corrupt Judge and prosecutor, and may just turn the tide for these political prisoners known as the Nevada 14.
Hundreds of supporters turned out at a Las Vegas event Saturday night supporting the defendants facing trial in the Bunkerville standoff case.
They gathered at Rainbow Gardens to hear speeches from Las Vegas City Councilwoman Michele Fiore, members of the Bundy family and even Roger Stone, an on-and-off adviser for President Donald Trump.
A trial in the Bunkerville standoff case opens Monday at the Lloyd George U.S. Courthouse, but instead of trying a new set of defendants, prosecutors will begin their second attempt to convict four men accused of conspiring against the government with rancher Cliven Bundy.
https://www.reviewjournal.com/news/bundy-blm/rallies-support-defendants-in-bunkerville-standoff-case/
http://thepetesantillishow.com
https://www.facebook.com/petesantillinotguilty/
http://thepetesantillishow.com/donate/
We encourage you to Share our Reports, Analyses, Breaking News and Videos. Simply Click your Favorite Social Media Button and Share.