8-12-17
WARNING GRAPHIC VIDEO
Update: 1 person reported killed in this incident.
Video shows a car driving into counter-protesters in Charlottesville, Virginia, injuring multiple people. Video contains strong language. Credit: Brennan Gilmore
Video shows a car driving into counter-protesters in #Charlottesville, Virginia
Latest: Car plows Into counter-protesters in Virginia, injuring at least 7
A vehicle has plowed into a crowd of people during protests in Charlottesville, Virginia, injuring at least seven people, witnesses say. It was not immediately clear whether the crash was intentional or the result of an accident. James Valles reports. (BNO News)
Graphic video: Car slams into crowd at alt-right demonstration (Including the car leaving at a high rate of speed)
Source USA Today
Car Strikes Group at White Nationalist Rally
Authorities are on the scene after a vehicle plowed into a group of people marching through downtown Charlottesville. White nationalists have been protesting plans by Charlottesville to remove a statue of Confederate Gen. Robert E. Lee. (Aug. 12)
Live after car plows into counter protesters at Alt Right rally in Charlottesville
Source Ruptly
LIVE Stream: Alt-Right Rally & Counter Protesters in Charlottesville, VA (8-12-17)
LIVE: White Supremacist Rally Violent Clash with Counter-Protesters in Virginia, Charlottesville
TRUMP RESPONDS
Sources Livestream USA
President Donald Trump Charlottesville Statement 8/12/17
Source Live On Air News
---
Major figures of the alt-right movement are due to lead a rally against immigration policies and in support of "free speech" in Charlottesville, VA, US, on Saturday, August 12. Counter-protests are expected.
Richard Spencer and Mike Enoch will be among the speakers, while the Nationalist Socialist Movement also announced that its members, including its leader Jeff Schoep, will join the rally.
This 'Unite the Right Free Speech Rally' comes three months after alt-right activists held a torch-lit march against the removal of #ConfederateMonuments in #Charlottesville and were confronted by counter-protesters.
---
Car hits crowd after police shut down 'Unite the Right' rally in Charlottesville
CHARLOTTESVILLE — A car crashed into a crowd of peaceful protesters here Saturday after police in riot gear dispersed crowds at the "Unite the Right" rally following bottle-throwing clashes between alt-right demonstrators, counter-protesters, white nationalists, neo-Nazis and supporters of Black Lives Matter.
Several hundred protesters were marching peacefully in a long line downtown when the silver sedan drove into a group of them, although it was not immediately clear whether the driver was acting deliberately.
Videos of the incident show a silver Charger traveling at high speed down a narrow downtown street, into a crowd and slamming into plowing into the back of a second vehicle. With the car's front badly damaged and its mangled bumper sticking out one side, the driver backs up a high speed for several blocks, then turns left and speeds off, chased by police.
Photos and video posted on social media showed several people receiving treatment on the ground, but the number of injuries was not immediately known. An Associated Press reporter saw at least one person on the ground receiving medical treatment immediately after the incident.
Charlottesville officials said two people were treated for serious injuries after fights broke out earlier in the leadup to the rally that city officials declared an "unlawful assembly."
The violence prompted Gov. Terry McAuliffe to declare a state of emergency and played out against a backdrop of unofficial, armed militia groups ringing Emancipation Park, where the rally was called to protest the planned removal of a statue of Confederate Gen. Robert E. Lee.
Some 500 protesters among the white nationalist and alt-right groups left the park shortly after state police, using megaphones, declared the gathering an "unlawful assembly" at 11:40 a.m., about 20 minutes before the rally was scheduled to begin Source USA Today
---
BREAKING: State Of Emergency DECLARED… National Guard Deployed
CHARLOTTESVILLE, Va. — The governor of Virginia declared a state of emergency in Charlottesville on Saturday as a protest of a plan to remove a statue of a Confederate general turned violent, leaving several people injured and threatening to plunge the area into chaos.
Gov. Terry McAuliffe declared the state of emergency after rally supporters and counter-protesters screamed, chanted, threw punches, hurled water bottles and unleashed chemical sprays on each other Saturday morning.
A state of emergency has been declared for Charlottesville due to the fighting, clashes and "chaos" at the rally. Virginia Gov. Terry McAuliffe declared a state of emergency in the city to aid in the local response. He earlier said the Virginia National Guard has been deployed. The city and county issued a declaration of local emergency for Charlottesville city and county, when the scene turned violent well before the "Unite the Right" rally, scheduled for noon, officially began. The city said two people were treated for serious but non-life-threatening emergencies from altercations by 10:30 a.m. Counter-protesters also flooded the area to demonstrate their disdain for the protesters' message.
Meanwhile, NBC notes that the National Guard has been deployed, with Virginia State Police coordinating security in the city of 45,000, the governor said in a statement. "I want to urge my fellow Virginians, who may consider joining, either in support or opposition to the planned rally, to make alternative plans," McAuliffe said.
Men dressed in militia uniforms were carrying shields and openly carrying long guns.
The Virginia State Police tweeted that officers had made arrests following the unlawful assembly declaration.
City officials said the declaration allows them to request additional resources to respond to the clashes expected between hundreds of American PATRIOTS and the paid leftists opposing them.Clashes also broke out Friday night after a judge cleared the way for the protest to continue as planned. The unrest prompted Gov. Terry McAuliffe to place National Guard members on standby and encourage Virginians to stay away from the event. Source AFF
---
Violence & Chaos! National Guard on Site, Emergency Declared For Charlottesville. Catalyst For Civil Unrest & National Martial Law? (Videos) click here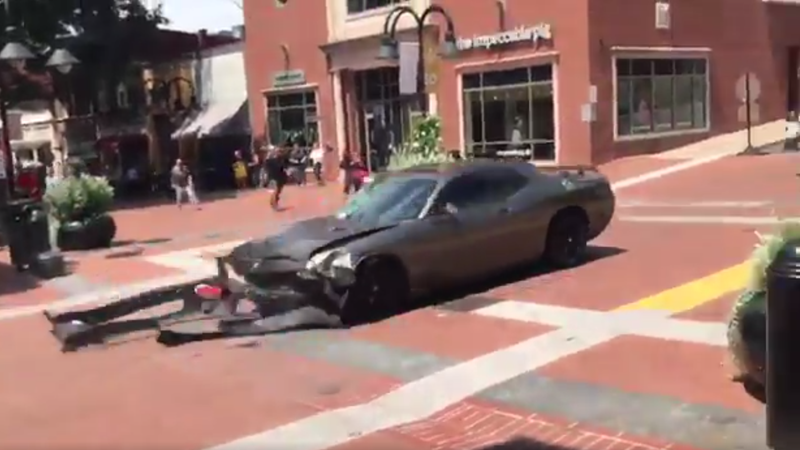 We encourage you to Share our Reports, Analyses, Breaking News and Videos. Simply Click your Favorite Social Media Button and Share.