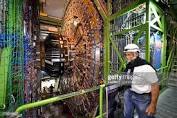 Dark experiments via dark entities? Why do they have Shiva The Destroyer on their front doorstep? Could CERN be responsible for the Mandela Effect? What is actually going on at CERN?
Science Documentary – CERN : Big Bang Machine On July 4, 2012, scientists at the giant atom smashing facility at CERN announced the discovery of a subatomic particle that seems like a tantalizingly close match to the elusive Higgs Boson, thought to be responsible for giving all the stuff in the universe its mass.
Since it was first proposed nearly fifty years ago, the Higgs has been the holy grail of particle physicists: finding it completes the "standard model" that underlies all of modern particle physics. Now CERN's scientists are preparing for the Large Hadron Collider's second act, when they restart the history-making collider, running at higher energy–hoping to find the next great discovery that will change what we know about the particles and forces that make up our universe.
I host the Church of Mabus radio show and it is going on 8 years. I've been in the paranormal community for 20 years. I provide content from a network of sources and guests and allies. Ranging from Politics to the Paranormal and the Spiritual. You can check out my other articles here at my BIOGRAPHY at BIN and you can check out my free radio show at this link HERE. Thanks for showing your support and stopping by.
We encourage you to Share our Reports, Analyses, Breaking News and Videos. Simply Click your Favorite Social Media Button and Share.