by Pete Santilli
Americans are becoming increasingly concerned about censorship on Facebook, Youtube and other prominent social media sites. They're especially concerned about the untrustworthy news reporting by the main stream media, and have migrated to the internet in order to find authentic, unfiltered news about the world we live in.
Today Facebook has taken one giant leap towards boxing out independent journalists by announcing they are "testing" removal of alternative media publishers from their news feed unless they pay to have their articles posted.
Essentially, people who are starved for truthful news reporting will only have an opportunity to read articles published by those who can afford to. Where does this leave the truth in journalism?
Back in the early days of Google, people would trust that when they type a question such as "…what is the best refrigerator to buy…", Google would instantly employ a scientific algorithym which scanned their database and came up with the most popular answer. No. The answers provided by Google was based on who paid for the ad to show up on top of the search results. If the brand Kenmore showed up, it had nothing to do with what refrigerator is best or more popular, it had everything to do with Kenmore paying to be on the consumer's screen.
In the very near future, Americans will open up Facebook; check their news feed to find out what's happening in the world and receive only pre-paid articles. Alternative media reports and analysis may soon be deleted.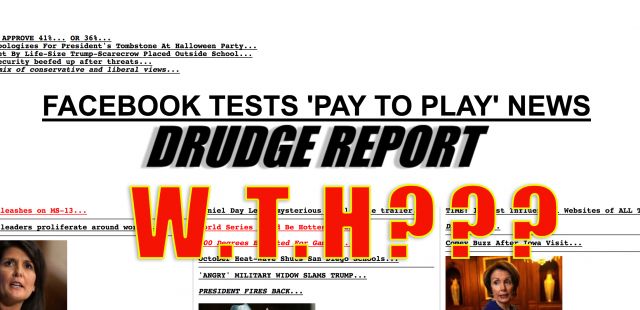 Read the article published on Mashable:
Watch out, publishers: a nightmare scenario for Facebook may soon be a reality.
The social network last week officially launched its secondary news feed called Explore. The feed generally features posts from Facebook Pages users don't follow. News Feed, meanwhile, hosts posts from friends and Pages users do follow.
But that's not true for everyone. In six markets, Facebook has removed posts from Pages in the original News Feed and relegated them to another feed, Filip Struhárik, editor and social media manager at , wrote. That means Facebook's main feed is no longer a free playing field for publishers. Instead, it's a battlefield of "pay to play," where publishers have to pony up the dough to get back into the News Feed.
It's a stark change from how media outlets have grown with Facebook. Publishers like BuzzFeed's Tasty and NowThis grew via distributing viral posts and videos on News Feed, as Ziad Ramley, former social lead at Al Jazeera English, wrote. While companies had to employ social media managers, they could generally rely on them sharing content without paying to boost it.
That game could be over, creating a nightmare situation for publishers while Facebook hopes it leads to more advertising revenue.
Living off organic Facebook reach?
You're in for a tough time
That free party is over.
News Feed in 2018 will be for paying guests only.

— Matt Navarra ⭐️ (@MattNavarra) October 21, 2017
Here's an example of the frustration people are feeling about censorship and Orwellian control of the flow of information on the internet. More importantly, this Youtuber (The Sane Progressive) offers a solution that we all need to consider.
In the coming days, I plan to get back to the airwaves and announce some very exciting news about solutions to overcome Main Stream Media propaganda and internet censorship. Please stay tuned by subscribing to my YouTube channel, as well as my Facebook page.
Subscribe to my Youtube channel: The Pete Santilli Show
Like my Facebook Page: Click Here
We encourage you to Share our Reports, Analyses, Breaking News and Videos. Simply Click your Favorite Social Media Button and Share.