Headline: Bitcoin & Blockchain Searches Exceed Trump! Blockchain Stocks Are Next!
EPISODE #1132 – The Pete Santilli Show Live: FaceBook Founder Admits – We Made It Addictive On Purpose
by Pete Santilli & Deb Jordan, ThePeteSantilliShow.com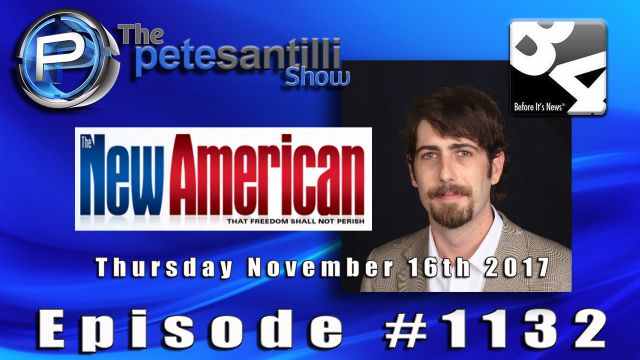 Tonight on The Pete Santilli Show - Special Guest Alex Newman founder of The New American – Alex joins Pete to catch up on what's trending on his popular publication, The New American, while giving an in depth analysis over new revelations FaceBook creators purposefully set out to addict people to their social media platform.
Your calls are an important part of The Pete Santilli Show — CALL IN LIVE – @ 563-999-1449
WATCH US LIVE @ 7:00 PM Eastern Standard Time
Zero Hedge: Facebook Founder Warns "God Only Knows What It's Doing To Kids' Brains"
Your calls are important to us — Dial in @ 563-999-1449
Links to today's article: http://sbn.buzz/headlines
Visit Our Website: http://sbn.buzz
BeforeItsNews.com Articles: http://sbn.buzz/news
Important Links to Share: http://sbn.buzz/links
Daily News Headlines: http://sbn.buzz/headlines
Subscribe To Our Youtube Channel: http://sbn.buzz/youtube
Audio Download: http://sbn.buzz/podcast
Daily Live Show: http://sbn.buzz/live
Support The Pete Santilli Show: http://sbn.buzz/insider
Like Our Facebook Page: http://sbn.buzz/facebook
Follow Us on Twitter: http://sbn.buzz/twitter