By Pete Santilli, The Pete Santilli Show
Watch the video & please be sure to share with your network of friends and family.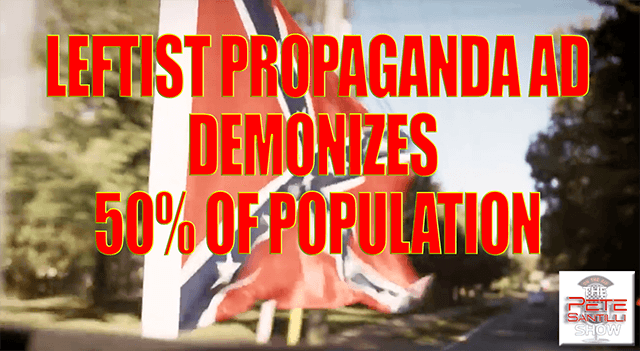 You're white; Christian; American; patriotic; but you may not have a political bumpersticker on your car or a Confederate flag on the back of your pickup truck. You're a typical American representing greater than 50% of our population, and when you see this recent political attack ad, you'll undoubtedly feel as though the leftists are going over-the-top with their propaganda & brainwashing of the population.
White Americans are not terrorists. They're not a harm to our society. In fact, the majority of Americans are God fearing, flag waving people who are protective of their fellow countrymen. Youngsters should not run when they see a pick-up truck with a "Don't Tread On Me" novelty license plate as if a terrorist is about to attack & kill them.
The impression this advertisement creates is unacceptable —- actually, when you watch the video, you'll agree that it's disgusting — especially since it has no basis in reality. Watch the video and be sure to Like, Comment, Subscribe and Share. Share this article with as many white, patriotic, christian Americans as you can. We need to defeat these marxists by showing them that we're the majority, and certainly not a silent majority as we did when we sent President Trump to Washington DC on election day.
Source: Click Here
Latino Victory Fund: 'American Nightmare' | Campaign 2017
Latino Victory Fund, a Democratic group on released a video ad featuring a pickup truck flying a Confederate flag and sporting a bumper sticker for Republican Ed Gillespie chasing a group of minority children.
---
Want to see more articles like this one? Please consider becoming a supporter of our work & check out the following:




Important Disclaimer: Pete Santilli & Deb Jordan are radio talkshow hosts who share and comment on trending political news and current events with a listening audience. The information is obtained by way of public domain and their opinions are merely shared or distributed as a service to subscribers and the general public. It is impossible to screen every listener and or those who participate by subscribing, commenting in a chatroom, or calling into their live broadcasts. Some of the topics and language used may be steeped in controversial theory, and the opinion of the hosts may be deemed by some as offensive. However, they fully support a person's right to unsubscribe, not engage, or have an opposing view. While they may indulge in thought provoking conversation and agree or disagree with a guest or audience member who has been stimulated to a emotional response, it is not their intention to incite a person or group of people to any action that would be deemed illegal in the eyes of law enforcement.
We encourage you to Share our Reports, Analyses, Breaking News and Videos. Simply Click your Favorite Social Media Button and Share.