Property Rights And The U.N. 2030 Agenda
Episode # 1149 – The Pete Santilli Show – Thursday December 07, 2017
By Pete Santilli, The Pete Santilli Show
The Pete Santilli Show is a widely distributed social media broadcast that is hosted by Pete Santilli and Deb Jordan. The show has made groundbreaking strides in the field by outperforming Mainstream Media with the flow of information during breaking national news. The show can be seen Sunday thru Friday beginning @ 7:00 PM EST.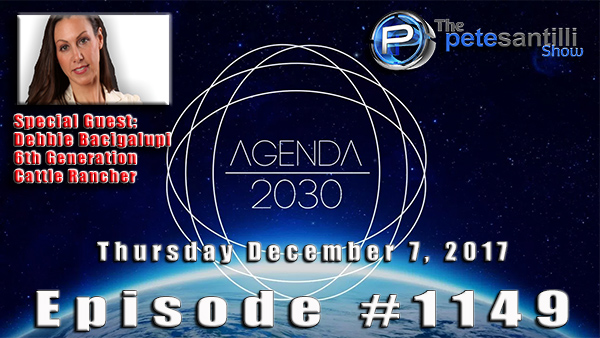 TONIGHT'S FEATURED GUEST – Debbie Bacigalupi is a Californian cattle rancher who is in-demand throughout the west as an educational speaker on Agenda 21, the 2030 Agenda, Cap and Trade, Sustainable Development, property rights, dams and water rights, "conservation" and other related issues.
Ms. Bacigalupi co-produced and/or inspired timely documentaries: Blue, No Water No Farmer No Food, and Wolves in Government Clothing – all focusing on how aggressive environmental policy is harming rural America. Discouraged by the erosion of rural America, she ran for the U.S. House of Representatives in 2012.
Ms. Bacigalupi holds a BS degree in Business and a Masters in Business Administration and is a Certified Meeting Professional and Sommelier. Her entrepreneurial spirit and passion to free rural America and change lives through education inspired her to open her own business with Rodan+Fields (dbacigalupi.myrandf.biz). She is Ambassador-at-Large for Technocracy News.
---
JOIN US STREAMING LIVE STARTING @ 7:00 PM EASTERN::
YouTube LINK – https://youtu.be/JmYKxVuA4Xw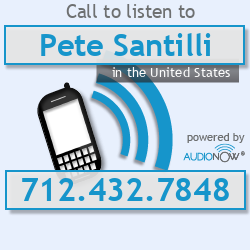 ---
Want to see more articles like this one? Please consider becoming a supporter of our work & check out the following links:




---
Important Disclaimer: Pete Santilli & Deb Jordan are radio talk show hosts who share and comment on trending political news and current events with a listening audience. The information is obtained by way of public domain and their opinions are merely shared or distributed as a service to subscribers and the general public. It is impossible to screen every listener and/or those who participate by subscribing, commenting in a chatroom, or calling into their live broadcasts. Some of the topics and language used may be steeped in controversial theory, and the opinion of the hosts may be deemed by some as offensive. However, they fully support a person's right to unsubscribe, not engage, or have an opposing view. While they may indulge in thought provoking conversation and agree or disagree with a guest or audience member who has been stimulated to an emotional response, it is not their intention to incite a person or group of people to any action that would be deemed illegal in the eyes of law enforcement.
Links to today's article: http://sbn.buzz/headlines
Visit Our Website: http://sbn.buzz
BeforeItsNews.com Articles: http://sbn.buzz/news
Important Links to Share: http://sbn.buzz/links
Daily News Headlines: http://sbn.buzz/headlines
Subscribe To Our Youtube Channel: http://sbn.buzz/youtube
Audio Download: http://sbn.buzz/podcast
Daily Live Show: http://sbn.buzz/live
Support The Pete Santilli Show: http://sbn.buzz/insider
Like Our Facebook Page: http://sbn.buzz/facebook
Follow Us on Twitter: http://sbn.buzz/twitter
We encourage you to Share our Reports, Analyses, Breaking News and Videos. Simply Click your Favorite Social Media Button and Share.