1/2 Truth + 1/2 Truth = Lie
Episode #1146 – The Pete Santilli Show – DAY OF WEEK December 04, 2017
By Pete Santilli, The Pete Santilli Show
The Pete Santilli Show is a widely distributed social media broadcast that is hosted by Pete Santilli and Deb Jordan. The show has made groundbreaking strides in the field by outperforming Mainstream Media with the flow of information during breaking national news. The show can be seen Sunday thru Friday beginning @ 7:00 PM EST.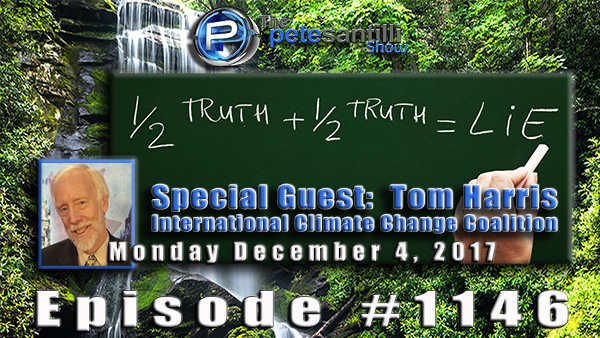 TONIGHT'S FEATURED GUEST Tom Harris: Tom Harris: The ICSC (International Climate Science Coalition) aims to help create an environment in which a more rational, open discussion about climate issues emerges, thereby moving the debate away from implementation of costly and ineffectual "climate control" measures. ICSC encourages assisting vulnerable peoples to adapt to climate variability and continuing scientific research into the causes and impacts of climate change.
Tom Harris lives and works in Ottawa, Ontario, Canada. He has 30 years' experience as a mechanical engineer/project manager, science and technology communications professional, and technical trainer. Tom calls himself a climate denier and the ICSC a climate realist group.
The Heartland Institute describes Harris as "perhaps the most frequently cited and interviewed critic of exaggeration and alarmism in the global warming debate, appearing thousands of times on online news forums and being regularly published in newspapers in Canada and the U.S. and occasionally in Australia, New Zealand, the U.K., and other countries."
The International Climate Science Coalition (ICSC), of which Harris is Executive Director, offers the following as its "Core Principles": ICSC on Climate Science
1. Global climate is always changing in accordance with natural causes and recent changes are not unusual.
2. Science is rapidly evolving away from the view that humanity's emissions of carbon dioxide and other 'greenhouse gases' are a cause of dangerous climate change.
3. Climate models used by the IPCC* fail to reproduce known past climates without manipulation and therefore lack the scientific integrity needed for use in climate prediction and related policy decision-making.
4. The UN IPCC Summary for Policymakers and the assertions of IPCC executives too often seriously misrepresent the conclusions of their own scientific reports.
5. Claims that 'consensus' exists among climate experts regarding the causes of the modest warming of the past century are contradicted by thousands of independent scientists.
6. Carbon dioxide is not a pollutant – it is a necessary reactant in plant photosynthesis and so is essential for life on Earth.
7. Research that identifies the Sun as a major driver of global climate change must be taken more seriously.
8. Global cooling has presented serious problems for human society and the environment throughout history while global warming has generally been highly beneficial.
9. It is not possible to reliably predict how climate will change in the future, beyond the certainty that multi-decadal warming and cooling trends, and abrupt changes, will all continue, underscoring a need for effective adaptation.
10. Since science and observation have failed to substantiate the human-caused climate change hypothesis, it is premature to damage national economies with `carbon' taxes, emissions trading or other schemes to control 'greenhouse gas' emissions.
* United Nations' Intergovernmental Panel on Climate Change (IPCC) ICSC on Energy
1. Carbon dioxide and other 'greenhouse gas' emissions from human activity—energy production, transportation, cement production, heating and cooling, etc.—appear to have only a very small impact on global climate.
2. So-called "new renewable energy technologies" are extremely expensive and rely on huge subsidies. To use such intermittent and diffuse power sources requires that the consumer pays between three and ten times the price of power from conventional sources (coal, oil, natural gas, hydro and nuclear). Regardless, it is not currently possible to safely replace a significant fraction of our conventional energy supplies with alternative energy sources such as wind, solar and most biofuels.
3. New renewable energy technologies have only a minimal effect on carbon dioxide emissions because none of them can be relied upon to be available when needed. Therefore, conventional fossil fuel-fired power stations must be kept on standby in case the wind drops or a cloud passes over the Sun. This leads to additional emissions of carbon dioxide that, to a large extent, offset the reductions made by the renewable energy technologies.
4. "Energy independence" is not a good reason for promoting new renewable energy technologies.Energy independence is more easily–and much more cheaply–attained by exploiting abundant national fossil fuel reserves, and spending some of the wealth created on research into potential new energy technologies.
---
JOIN US STREAMING LIVE STARTING @ 7:00 PM EASTERN:
FACEBOOK:
YOUTUBE: SHARE LINK URL: https://youtu.be/7y7ceuKh8ms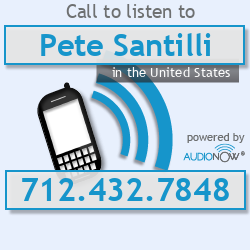 ---
Want to see more articles like this one? Please consider becoming a supporter of our work & check out the following links:




---
Important Disclaimer: Pete Santilli & Deb Jordan are radio talk show hosts who share and comment on trending political news and current events with a listening audience. The information is obtained by way of public domain and their opinions are merely shared or distributed as a service to subscribers and the general public. It is impossible to screen every listener and/or those who participate by subscribing, commenting in a chatroom, or calling into their live broadcasts. Some of the topics and language used may be steeped in controversial theory, and the opinion of the hosts may be deemed by some as offensive. However, they fully support a person's right to unsubscribe, not engage, or have an opposing view. While they may indulge in thought provoking conversation and agree or disagree with a guest or audience member who has been stimulated to an emotional response, it is not their intention to incite a person or group of people to any action that would be deemed illegal in the eyes of law enforcement.
Links to today's article: http://sbn.buzz/headlines
Visit Our Website: http://sbn.buzz
BeforeItsNews.com Articles: http://sbn.buzz/news
Important Links to Share: http://sbn.buzz/links
Daily News Headlines: http://sbn.buzz/headlines
Subscribe To Our Youtube Channel: http://sbn.buzz/youtube
Audio Download: http://sbn.buzz/podcast
Daily Live Show: http://sbn.buzz/live
Support The Pete Santilli Show: http://sbn.buzz/insider
Like Our Facebook Page: http://sbn.buzz/facebook
Follow Us on Twitter: http://sbn.buzz/twitter
We encourage you to Share our Reports, Analyses, Breaking News and Videos. Simply Click your Favorite Social Media Button and Share.