By Tyler Durden / ZeroHedge
Update (6:20 pm ET): Given the pace at which new information is being released, we've decided to include a running list of the highlights below…
At least 16 killed
More than 20 injured
Suspect arrested and identified as Nicolas de Jesus Cruz, former student
Teachers had been warned not to let Cruz onto campus with a backpack, and he had previously been the subject of schoolwide warnings about possible violence
It's not clear why he left the school
The town of Parkland is about 45 miles north of Miami
Sheriff said the total won't be known until the SWAT team gives the "all clear" – the school is still considered an active crime scene
One twitter user estimated that, since the Columbine High School shooting on April 20, 1999, more than 150,000 US students have been directly affected by school shootings
More: weapon was an AR-15, a semi-automatic rifle frequently used in mass shootings including Newtown, Aurora and San Bernardino; multiple magazines were used…
…Video of the school shooting suspect, still wearing his hospital gown, being escorted into Broward County Sheriff's headquarters
Breaking911✔@Breaking911

BREAKING: At least 15 people dead in Florida high school shooting – ABC News
Breaking911✔@Breaking911

MOMENTS AGO: School shooting suspect escorted into BSO headquarters, still wearing hospital gown
In another briefing, Sheriff Israel said the shooting "Started outside the school and went inside". Two succumbed to their wounds at the hospital, but it's unclear what state the scene is in. Twelve were killed inside the school, two were killed on a street outside, and two more succumbed to their wounds. It's unclear what happened to the 17…
Cruz is a legal adult and can be charged as such. At this point, it's unclear if Cruz is cooperating with police…
His arraignment will in all likelihood be tomorrow morning in Broward County State Court…
One expert said that Cruz may have legally purchased his firearm in the state of Florida where, despite warnings about his behavior, he wouldn't have been disqualified for mental health reasons…
It's unclear how Cruz acquired his weapon…
Watch a live feed of the coverage below:
* * *
Update (6:00 pm ET): In a shocking revision, ABC is reporting that at least 15 students were killed in today's attack…
zerohedge@zerohedge

At least 15 dead in shooting at Florida high school: ABC
* * *
Update (5:20 pm ET): A picture of the casualties from today's shooting is beginning to emerge…
There were at least 20 students injured in the attack; several are dead…
The shooter has been identified as an 19-year-old former student named Nicolas de Jesus Cruz…
According to Reuters, Cruz surrendered quietly.
Deputies arrested him in the Wyndham Lakes community in Coral Springs, just before 4 pm, a little over a mile away from the school, and a little over an hour after he fired his first shots, according to a local TV station…
"He was taken into arrest without incident," said Broward County Sheriff Scott Israel.
"There was a time when he did attend the school," Israel said. "I don't know why he left, I don't know when he left."
A teacher at the school told the Miami Herald that Cruz, 19, had been identified as a potential threat to fellow students in the past. Emails had reportedly been sent warning teachers that the student had made threats against other in the past and that he should not be allowed on the campus with a backpack.
Another student interviewed on the scene by Channel 7 said Cruz had guns at home.
"We were told last year that he wasn't allowed on campus with a backpack on him," said math teacher Jim Gard, who said the former student suspected in the shootings had been in his class last year. "There were problems with him last year threatening students, and I guess he was asked to leave campus."
One student told CNN that the school had recently held a meeting to discuss what to do in such an attack…
In his first public statement, Israel said "we have multiple casualties" and "there are folks who have lost their lives.."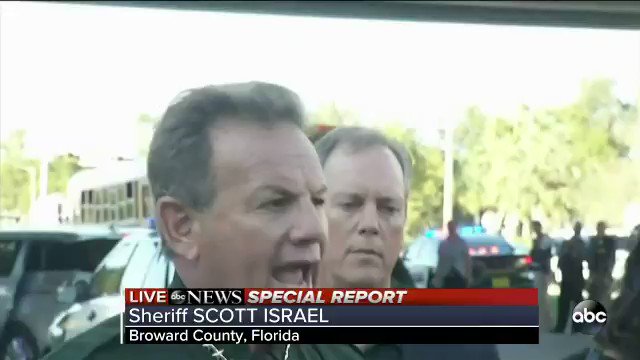 Breaking911✔@Breaking911

Broward County Sheriff: "We have multiple casualties…there are folks that have lost their lives."
Police said they won't know the total toll of the attack until the SWAT team gives the all-clear…
"We don't know if there are injured people," said Israel. "We don't know if there are people hiding. We will not begin to open up the crime scene until the SWAT components say, 'The school is safe and clear.' When I hear all-clear, we'll begin the next phase of this investigation."
* * *
Dozens of victims are being reported in a shooting at Marjory Stoneman Douglas High School in Parkland Florida, a large high school with several thousand students, with authorities saying the gunman is now in custody…but the scene is still considered active.
Contrary to initial reports that there could be dozens of victims, NBC is reporting that 14 students have been shot.
The suspect's name has yet to be released. But reporters said he had previously attended the school, but wasn't currently enrolled…he's said to be 18 years old.
Steve Herman✔@W7VOA

As many as 7 dead, according to local broadcaster. https://twitter.com/CBSMiami/status/963891854159876097 …
Steve Herman✔@W7VOA

Suspect had previously attended the school but wasn't a current student and he was taken into custody without incident, according to @browardsheriff.
The suspect reportedly barricaded himself indoors before being taken into custody, footage of the suspect being taken into custody can be seen below…
The suspect matched the initial description of the suspect…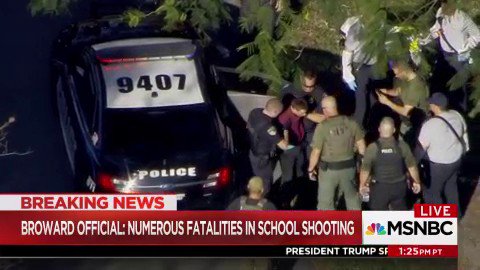 MSNBC✔@MSNBC

LATEST: There's been a school shooting at Douglas High School in Parkland, South Florida

- Sheriff confirms at least 14 victims
- Shooter is now in custody
- Police say scene 'still active'
Florida Sen. Bill Nelson told MSNBC that there were "many" fatalities…
Breaking911✔@Breaking911

BREAKING: Suspect In Custody After Mass Shooting at Marjory Stoneman Douglas High School in Parkland, FL – http://breaking911.com/breaking-news-shooting-confirmed-florida-high-school-multiple-injuries-reported/ … pic.twitter.com/g3e7z42cVi
Breaking911✔@Breaking911

MANY DEATHS: Florida Sen. Bill Nelson told Fox News "there are many deaths" in the high school shooting in Parkland. #PrayForParkland
NBC News✔@NBCNews

Broward County school district: "At this time, law enforcement is clearing students from Marjory Stoneman Douglas High School one building at a time. We will continue to provide updates, as more information becomes available."

Latest: http://nbcnews.to/2EsYjs3
NBC News✔@NBCNews

BREAKING: Broward Sheriff's Office: At least 14 victims in Florida school shooting, and "victims have been and continue to be transported to Broward Health Medical Center and Broward Health North hospital." http://nbcnews.to/2EsYjs3

A Florida high school was on lockdown and authorities said they were responding to an active shooter on Wednesday afternoon.
The shooting reportedly took place in a part of the building where freshman classes are typically held, one student told NBC…
Jeff Lewis@ChicagoPhotoSho

PARKLAND SHOOTING SUSPECT IS NOW IN POLICE CUSTODY: WSVN7
The Superintendent of Schools called it a "horrific situation".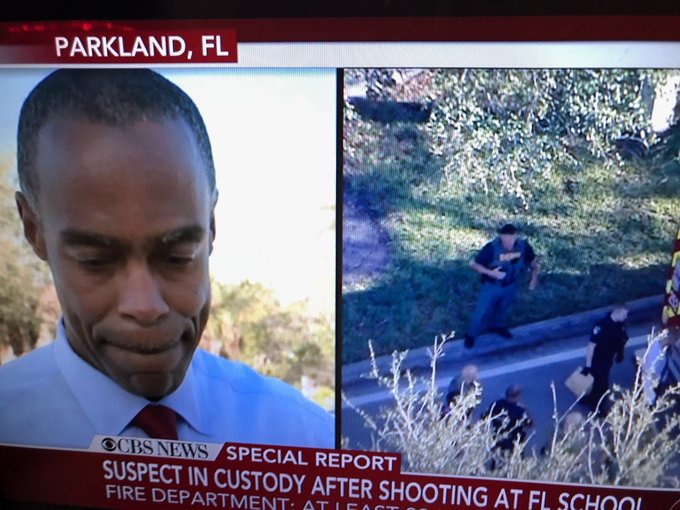 Doug Dunbar✔@cbs11doug

"It's a horrific situation". School superintendent in Broward county. "Pray for these children and these families"
The town is 50 miles north of Miami. As Bloomberg described it, the school is "a sprawling complex set on a tract in the South Florida community…"
Initial reports suggest there could be more than 50 victims and said it's being treated as a "mass casualty" event. According to NBC, the suspect was described as a white male last seen leaving campus in a burgundy shirt.
President Trump tweeted that he "just spoke" to Fla. Gov. Rick Scott…
Donald J. Trump✔@realDonaldTrump

My prayers and condolences to the families of the victims of the terrible Florida shooting. No child, teacher or anyone else should ever feel unsafe in an American school.
Donald J. Trump✔@realDonaldTrump

Just spoke to Governor Rick Scott. We are working closely with law enforcement on the terrible Florida school shooting.
Brian Entin✔@BrianEntin

Police saying more than 20 people injured in active shooting situation at Marjory Stoneman Douglas High. @wsvn
Brian Entin✔@BrianEntin

Perimeter set up around school. Some parents having a hard time getting close to Marjory Stoneman Douglas. Police have brought in armored vehicles. @wsvn
Coral Springs Police✔@CoralSpringsPD

#BREAKING BSO will be on scene to respond to media inquires. https://twitter.com/browardsheriff/status/963863727173971968 …
Aerial footage from CNN affiliate WSVN showed a number of people lying on the ground outside the school and being moved to ambulances. Dozens of police vehicles and ambulances are on site, including one tank, along with a team of heavily armed law enforcement officers as students ran or walked out. Some reported victims were seen being carried out of the school.
Coral Springs Police tweeted that students and teachers should remain barricaded inside the school until officers can reach them. People should stay away from the school due to an active police scene, police said. They also said that parents in touch with their students should refrain from calling 911.
The shooting went on for "some time…"
Television footage, seen below, showed police in fatigues entering the school with weapons drawn…then dozens of children frantically running and walking quickly out.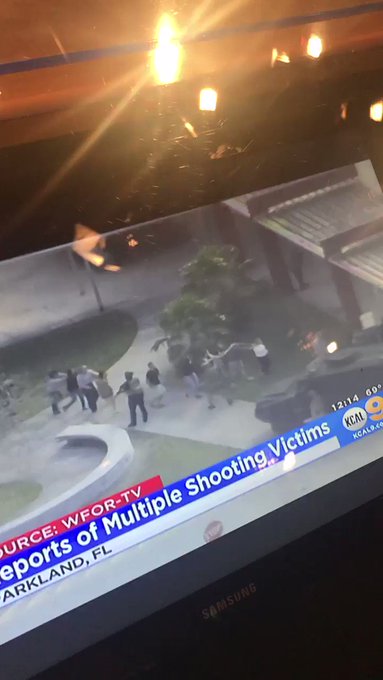 Sandra Mitchell✔@CBSLAsandra

Students with hands up being brought out of school. Gunman still at large, preliminary reports up to 50 victims #breaking #CBSLA #StonemanShooting
Horrifying stories from students who were at the school are starting to trickle in…
Nicole Baltzer, 18, said she was in trigonometry class about 10 minutes before the end of the school day when the fire alarm went off. As students evacuated, she heard six gunshots and everyone started running back inside the school, according to CNN.
Dozens of law enforcement vehicles are on site, including one tank, along with a team of heavily armed law enforcement officers.
"I heard so many gunshots, at least like six. They were very close," Baltzer said.
Baltzer said she is still on lockdown in a classroom on the second floor. Her stepsister is also on lockdown in a different classroom, she said.
"Everyone just started freaking out," one student said.
According to Buzzfeed, a male student, who was not identified, told WSVN that he was on the campus at the time of the shooting.
He and other students near him heard an alarm go off, he said, and initially they thought the school was staging some sort of drill. Then they heard gun shots. "We heard pops," the student said, "and from the other side of the school we see the whole school running out."
One student posted video of students ducking for cover while the sound of gunshots could be heard in the background…
NEW: (WARNING-graphic scene) Cell phone video that was taken inside a classroom shows students hiding for cover while gunshots are heard in the background pic.twitter.com/FgmQRW18xH

— CBS This Morning (@CBSThisMorning) February 14, 2018
Some students tweeted photos of them hiding under their desks…
Aidan@TheCaptainAidan

My school is being shot up and I am locked inside. I'm fucking scared right now.
Aidan@TheCaptainAidan

Still locked in. I checked the local news and there is 20 victims. Long live Majory Stoneman Douglas High.

12:10 PM – Feb 14, 2018 · Marjory Stoneman Douglas High School
Several agencies are responding to the incident, including the ATF and the FBI.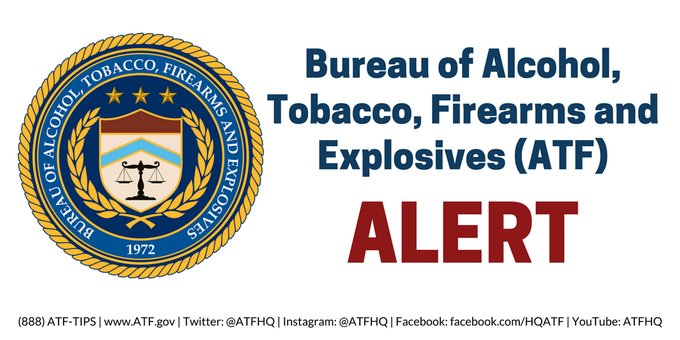 ATF HQ✔@ATFHQ

BREAKING: ATF agents from the Miami Field Division are responding to reports of a school shooting at Marjory Stoneman Douglas High School in Parkland, Fla. The investigation is ongoing and active.
Footage of students marching outside of the school with their hands up were taken by aerial cameras.
No information has been provided yet to parents, one parent told Bloomberg. "I'm scared for the other parents here. You can see the concern in everybody's faces. Everybody is asking, 'Have you heard from your child yet?'" one parent said.
As one twitter account pointed out, this is the eighteenth school shooting in the US so far this year….
We encourage you to Share our Reports, Analyses, Breaking News and Videos. Simply Click your Favorite Social Media Button and Share.