Like us on FB - https://www.facebook.com/TheKeplertelescopeChannel/
It is conceivable that humans could someday discover aliens. We scour the cosmos looking for their radio signals, and though we're not capable of interstellar space travel, it is remotely possible that we could find what we're looking for at any moment.
Hey guys, what exactly would we do if Aliens arrived either on Earth or parked in our Orbit.
You may be aware that many people believe that we have actually had these sort of visitations in the distant past and those type of encounters sparked religion and the idea to worship gods who descend from the Heavens.
Most of you think it is a wild idea but the evidence for this theory is absolutely everywhere around the Earth, in fact, it appears this was on an epic scale thousands of years ago.
Anyway guys, with the release of the new film 'arrival', this is sure to spark the imagination of many, are we in fact being slowly prepped for disclosure? We wonder if Mr Trump would answer that question if asked, he tells it like it is after all, RIGHT?
These are our 6 Scenarios of how Humanity would react if Aliens made contact or landed on Earth.
Just wait until you hear this.
At 6) – Panic! Retaliate first.
How exactly would we strike at an Alien race that has spanned the cosmos to get to Earth?
Maybe this would be our undoing, if China or Russia or worst still, North Korea, decided to fire a Nuclear weapon at the interstellar travellers mothership, would the Aliens already be prepared for that scenario?
Of course they would, but the question is, Would they then show us how powerful they are in turn? How would they interpret our actions? Would they be understanding or feel in danger? Do they even have emotions the same as we do?
Panic-ing is just about the worst thing we could do in this scenario.
There would surely be anarchy in most countries anyway and it would possibly be our own people who would need to be brought under control before we could establish anything else.
In at 5) – Communication
Attempting to communicate with the ETs is of course the natural thing to do, but would there be a global effort to do this? Would each region try to set up their own methods of communication? How confusing could that get?
Just think of how many languages there are on this Planet, How exactly would we do it? You would think that the Aliens would have a universal way of communicating with each other, so we earthlings would have to establish if we use imagery, sign, speech and what one of our languages to use the communication in.
It could get very confusing very quickly.
And at 4 on our list) – Alien Invasion
OK so they arrive and it is the War of the Worlds scenario. Are we ready?
Do we use biological weapons on the aliens, do we release a Plague on Earth to kill an Alien invasion force that is far superior than all the Army's combined and risk killing ourselves anyway?
Surely Guerrilla tactics would not work? Would they? What other option would we have?
We would have to let most humans on Earth die in order for the Human race to survive as a whole.
The Human race would have to go underground and pick of an invading force one by one.
Only the strongest would survive.
Number 3) – Technological advancement of the Human race in exchange for Earths resources
We often wonder how ancient Humans on Earth managed to transport and build megastructures on Earth thousands of years ago? Could it be that the Aliens are actually regular visitors to our World at 10 thousand year intervals?
They could be stopping of to stock up on valuable resources in exchange for technology, but just like in the distant past, the technology gets broken and we eventually lose the knowledge or abandon it.
And who gets the trading agreement? All Human kind? How would that work?
So in short, we would need to establish long term goals for technological advancement with the visiting beings.
At 2) – We are the Aliens
Imagine that for a second, What if Noah's ark was in fact some sort of massive Space ship to cradle all life in, until the Earth was safe enough to inhabit again after the great Cataclysm of 12 thousand years ago, we all know there was a great flood that spanned the Earth, surely a huge Ocean going vessel could not have withstood such an event.
If the Ark was indeed a Space Ship with life from our Planet locked in hibernation in Space for thousands of years, what would we make of that when it arrived home? Imagine what we could learn?
What great secrets we could uncover about all the massive Ancient Structures still here on Earth from a forgotten Civilization that apparently abandoned their dwellings thousands of years ago.
We have got you thinking now, Right.
We know that is a crazy theory guys but it just might be crazy enough to be true.
And number on our list) – We do nothing because we don't recognize Alien Life
In a 1967 episode of Star Trek, Captain Kirk and crew investigated the mysterious murders of miners on the planet Janus VI. The killer, it turned out, was a rock monster called the Horta. But the Enterprise's sensors hadn't registered any signs of life in the creature. The Horta was a silicon-based life-form, rather than carbon-based like living things on Earth.
Recognizing life from different worlds isn't likely to be simple, especially if the recipe for life elsewhere doesn't use familiar ingredients. There may even be things alive on Earth that have been overlooked because they don't fit standard definitions of life.
Does that not blow your mind or what,
And of course we already may have already had Alien contact, Remember the WOW signal?
What do you guys think would happen in the event of Alien life forms making their presence known publicly on Earth?
Will they Protect us or Destroy us? Would they want to collaborate or just trade briefly for our resources? Would we even recognize them?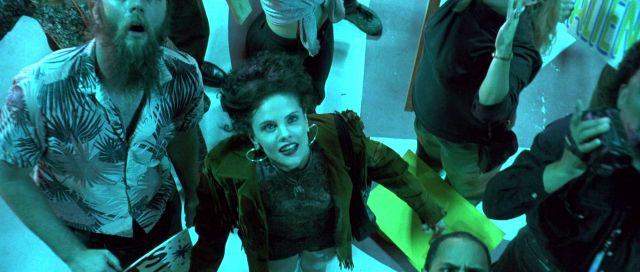 We encourage you to Share our Reports, Analyses, Breaking News and Videos. Simply Click your Favorite Social Media Button and Share.