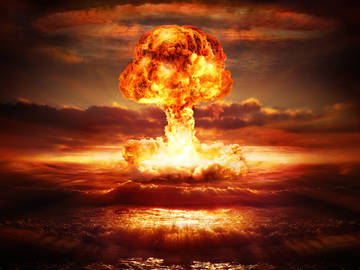 Dendera is an impressive and fascinating site, most intriguing however are the stairs leading to the temple roof. They appear to be melted. Made from solid stone it is hard to imagine what could have melted them.
The walls and reliefs seem to be intact, although they could have been re-surfaced by the ancient Egyptians.
It would take a tremendous amount of heat to melt stone steps such as these. What could have done this?
There has been speculation of ancient nuclear wars. Looking at an image such as this it is not difficult
to believe that there could be some truth to those theories.
A nuclear holocaust or nuclear apocalypse is a theoretical scenario involving widespread destruction and radioactive fallout causing the collapse of civilization, through the use of nuclear weapons. Under such a scenario, some of the Earth is made uninhabitable by nuclear warfare in future world wars.
Most people who use social media have figured out that Facebook and Google are in cahoots with the government. For those who are well aware of the issues, it's high time you switched over to Seen.life.
Seen.life is a website that is similar to Facebook but without all the censorship. Firearm friendly, you may buy sell or trade anything allowed by site TOS rules.
Check out more contributions by Jeffery Pritchett ranging from UFO to Bigfoot to Paranormal to Prophecy
We encourage you to Share our Reports, Analyses, Breaking News and Videos. Simply Click your Favorite Social Media Button and Share.