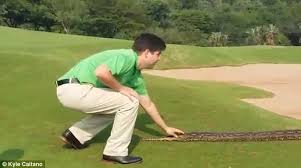 A group of golfers at a country club in South Africa encountered a monstrous obstruction to their game when an enormous python slithered across the course.
Estimated to have been around 11 feet long, the powerful reptile seems completely indifferent to the people nearby, but that quickly changes thanks to one foolhardy golfer.
As the unsuspecting python makes it way across the grass, the man slowly approaches the terrifying creature, crouches down, and touches its tail!
The unwanted fondle was clearly not appreciated by the python as its tail almost instantly retracts and coils, sending the once-brave man racing away in the other direction.
For its part, the snake also picks up the pace, darting away from the scene with remarkable speed, leaving the golfers to finish their game, no doubt while keeping an eye out to make sure the creature doesn't come back.
Source: UPI
Check out more contributions by Jeffery Pritchett ranging from UFO to Bigfoot to Paranormal to Prophecy
~~~~~
Most people who use social media have figured out that Facebook and Google are in cahoots with the government. For those who are well aware of the issues, it's high time you switched over to Seen.life. It is a website that is similar to Facebook but without all the censorship.
Firearm friendly, you may buy sell or trade anything allowed by site TOS rules.
We encourage you to Share our Reports, Analyses, Breaking News and Videos. Simply Click your Favorite Social Media Button and Share.