A pair of strong aftershocks shook central Italy late Wednesday, crumbling churches and buildings, knocking out power and sending panicked residents into the rain-drenched streets just two months after a powerful earthquake killed nearly 300 people.
But hours after the temblors hit, there were no reports of serious injuries or signs of people trapped in rubble, said the head of Italy's civil protection agency, Fabrizio Curcio.
The temblors were actually aftershocks to the Aug. 24 quake that struck a broad swath of central Italy, demolishing buildings in three towns and their hamlets, seismologists said. Several towns this time around also suffered serious damage, with homes in the epicenter of Visso spilling out into the street.
The first struck at 7:10 p.m. and carried a magnitude of 5.4. But the second one was eight times stronger at 6.1, according to the U.S. Geological Survey. Because many residents had already left their homes with plans to spend the night in their cars or elsewhere, they weren't home when the second aftershock hit two hours later, possibly saving lives, officials said.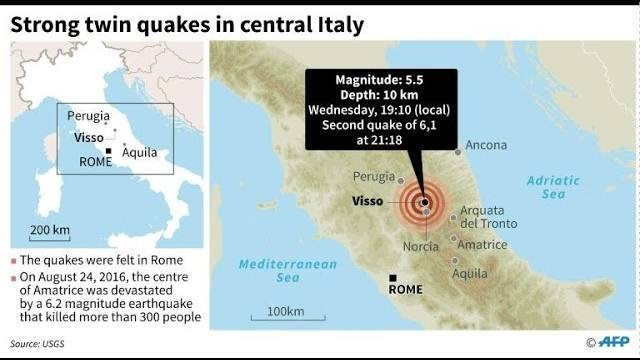 Sources:
http://abcnews.go.com/International/w…
http://earthquake.usgs.gov/earthquakes/
Images credit: USGS & AFP
We encourage you to Share our Reports, Analyses, Breaking News and Videos. Simply Click your Favorite Social Media Button and Share.