In a note to clients released Wednesday, Murray Gunn, the head of technical analysis for HSBC, said he had become on "RED ALERT" for an imminent sell-off in stocks given the price action over the past few weeks.
Gunn uses a type of technical analysis called the Elliott Wave Principle, which tracks alternating patterns in the stock market to discern investors' behavior and possible next moves.
In late September, Gunn said the stock market's moves looked eerily similar to those just before the 1987 stock market crash. Citi's Tom Fitzpatrick also highlighted the market's similarities to the 1987 crash just a few days ago.
On September 30, Gunn said stocks were under an "orange alert," as they looked to him as if they had topped out.
And now, given the 200-point decline for the Dow on Tuesday, Gunn thinks the drop is here.
"With the US stock market selling off aggressively on 11 October, we now issue a RED ALERT," Gunn said in the note. "The fall was broad-based and the Traders Index (TRIN) showed intense selling pressure as the market moved to the lows of the day. The VIX index, a barometer of nervousness, has been making a series of higher lows since August."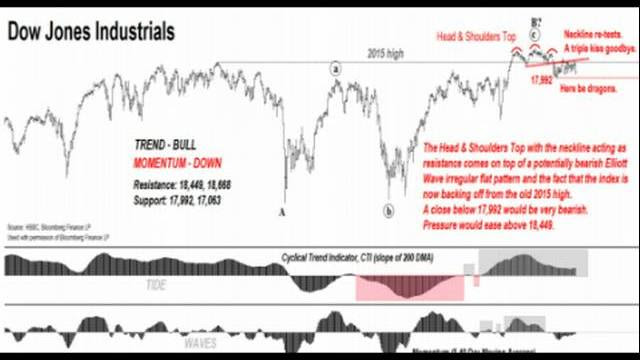 Source:
Dahboo77
http://www.businessinsider.com/hsbc-red-alert-get-ready-for-a-severe-fall-in-the-stock-market-2016-10
We encourage you to Share our Reports, Analyses, Breaking News and Videos. Simply Click your Favorite Social Media Button and Share.