A huge filament eruption with CME caught by NASA's SDO in the early hours of October 1st. The coronal mass ejection was not Earth directed, although the ejected super-hot plasma may deliver a glancing blow to our planet the next days.
A powerfull solar flare was spotted on September 30th at 09 35 UT. Any associated CME with this event won't be towards Earth.
SPOTLESS SUN: With the departure of active region AR2597, the sunspot number is dropping to zero again. This continues a year-long trend of falling sunspot numbers that heralds the approach of Solar Minimum.
G1 (MINOR) GEOMAGNETIC STORM WATCH FOR 01 OCTOBER. A G1 (Minor) Geomagnetic Storm Watch is in effect for 01 October 2016 due to continued effects from a recurrent, positive polarity, coronal hole high speed stream.
This feature has been responsible for G1 and G2 (Moderate) storm conditions since 27 September. Stay tuned for further updates. Solar Wind Speed: 593 km/sec. Solar Wind Magnetic Fields: Bt 4 nT, Bz -1 nT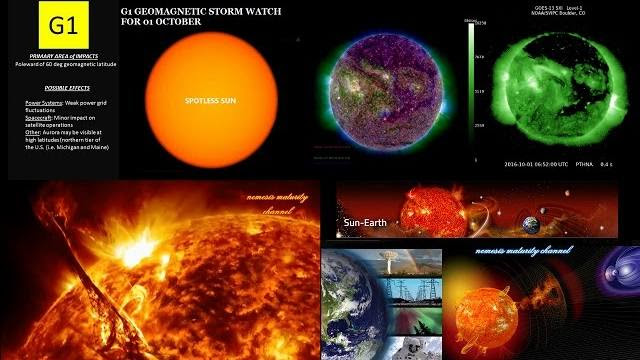 Sources:
http://www.swpc.noaa.gov/
https://helioviewer.org/
http://sdo.gsfc.nasa.gov/
http://www.swpc.noaa.gov/
We encourage you to Share our Reports, Analyses, Breaking News and Videos. Simply Click your Favorite Social Media Button and Share.