Down a Georgia country road, camouflaged members of the Three Percent Security Force have mobilized for rifle practice, hand-to-hand combat training — and an impromptu campaign rally for Republican presidential candidate Donald Trump.
"How many people are voting for Trump? Ooh-rah!" asks Chris Hill, a paralegal who goes by the code name "Bloodagent."
"Ooh-rah!" shout a dozen militia members in response, as morning sunlight sifted through the trees last weekend. As the most divisive presidential election in recent memory nears its conclusion, some armed militia groups are preparing for the possibility of a stolen election on Nov. 8 and civil unrest in the days following a victory by Democrat Hillary Clinton.
They say they won't fire the first shot, but they're not planning to leave their guns at home, either.
Trump's populist campaign has energized militia members like Hill, who admire the Republican mogul's promise to deport illegal immigrants, stop Muslims from entering the country and build a wall along the Mexico border.
Trump has repeatedly warned that the election may be "rigged," and has said he may not respect the results if he does not win. At least one paramilitary group, the Oath Keepers, has called on members to monitor voting sites for signs of fraud
Armed paramilitary groups first gained prominence in the early 1990s, fueled by confrontations in Ruby Ridge, Idaho and Waco, Texas, culminating in a militia sympathizer's 1995 bombing of a federal office building in Oklahoma City that killed 168 people.
Their numbers dwindled following that attack but have spiked in recent years, driven by fears that President Barack Obama will threaten gun ownership and erode the power of local government. The Southern Poverty Law Center, which tracks extremist groups, estimates there were 276 active militias last year, up from 42 in 2008.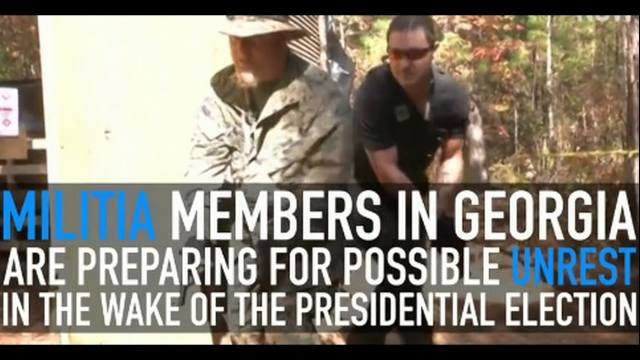 Source:
https://www.yahoo.com/news/u-militia-girds-trouble-presidential-election-nears-102009970.html
Dahboo77
We encourage you to Share our Reports, Analyses, Breaking News and Videos. Simply Click your Favorite Social Media Button and Share.