Beginning on 22 November 2016, Earth will once again be under the influence of a large, recurrent, north-polar connected Coronal Hole High Speed Stream. On its previous transit across the disk, this feature was responsible for numerous G1 (Minor) and G2 (Moderate) storm periods, including an isolated G3 (Strong) interval.
RETURN OF THE BIG CORONAL HOLE: At the end of October, a hole in the sun's atmosphere lashed Earth's magnetic field with solar wind, sparking moderately-strong geomagnetic storms and almost a full week of Arctic auroras. News flash: It's back. The same "coronal hole" is turning toward Earth again.
Coronal holes are regions in the sun's atmosphere where the magnetic field peels back and allows solar wind to escape. Since our last encounter with this hole in late October it has been transiting the farside of the sun, carried around by the sun's 27-day rotation.
Now that it is back we can see that the hole is not quite as large as it was a month ago–but it is still impressive, covering almost 1/3rd of the visible solar disk.
A pair of coronal holes (35 and 36), now about to turn into a geoeffective Earth facing position. A high speed solar wind stream flowing from the southern sector of CH35, along with CH36 is expected to reach Earth by November 22nd.
A minor (G1) geomagnetic storm watch will be in effect beginning late Monday. High latitude sky watchers should be alert for visual aurora.
BIN NOTE: If by now you haven't figured out that Facebook and Google are in cahoots with the corrupt government, then I feel for you, but for those who are well aware of the issues it's high time you switched over to Seen.life. It is a website that is similar to Facebook but without all the censorship.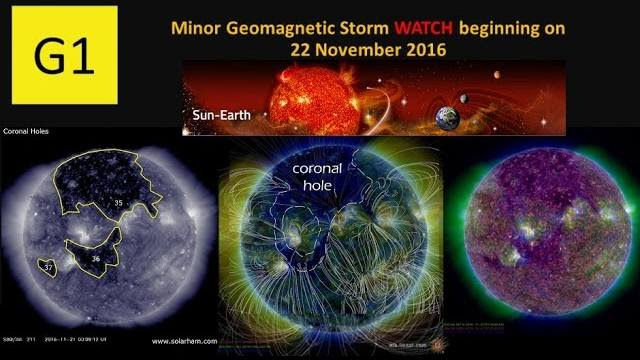 Source:
Clips, images credit: NOAA/SWPC, NASA/SDO
We encourage you to Share our Reports, Analyses, Breaking News and Videos. Simply Click your Favorite Social Media Button and Share.