Headline: Bitcoin & Blockchain Searches Exceed Trump! Blockchain Stocks Are Next!
Police in Sweden were forced to fire warning shots after a group of unidentified persons ran riots in the Rinkeby district of Stockholm late on Monday, setting cars on fire, throwing stones at police and looting local stores.
A police officer was injured during the clashes, forcing law enforcers to fire several warning shots at the crowd, Swedish public service broadcaster SVT reported, citing a local police spokesperson.
"The neighborhood, Rinkeby, was the scene of riots in 2010 and 2013, too. And in most ways, what happened late Monday night was reminiscent of those earlier bouts of anger. Swedish police apparently made an arrest around 8 p.m. near the Rinkeby station. For reasons not yet disclosed by the police, word of the arrest prompted a crowd of youths to gather."
"Over four hours, the crowd burned about half a dozen cars, vandalized several shopfronts and threw rocks at police. Police spokesman Lars Bystrom confirmed to Sweden's Dagens Nyheter newspaper that an officer fired shots with intention to hit a rioter, but did not strike his target. A photographer for the newspaper was attacked by more than a dozen men and his camera was stolen, but ultimately no one was hurt or even arrested."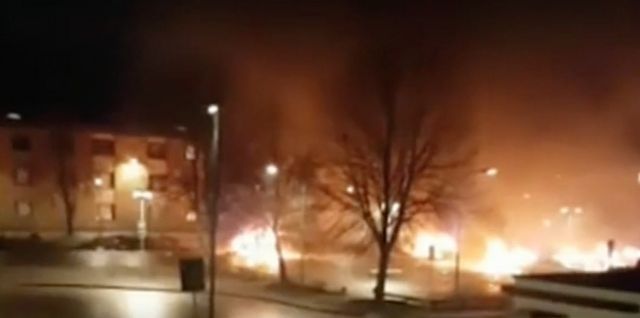 https://www.rt.com/news/378071-stockholm-riots-police-shots/
https://www.washingtonpost.com/news/worldviews/wp/2017/02/21/riots-erupt-in-swedens-capital-just-days-after-trump-comments/?tid=sm_fb%3Ftid%3Dsm_fb&utm_term=.d748e6308b05
Dahboo77