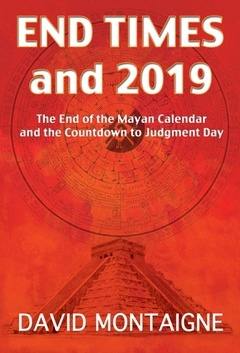 If you accept that anyone might calculate the end of the world based on astronomical clues, myths, monuments, and Bible prophecy – then don't make plans beyond 2019:
From its entry on Amazon:
End Times and 2019 reviews the evidence suggesting that the end of the world as we know it will occur in December 2019. Fact after fact is presented in logical order, progressing through astronomical clues given by the Maya, Egyptian pyramids, world mythology, and especially the Bible – leading readers to a timeline of events for our civilization's final years. The author's claim – while bold and controversial – is backed up with hundreds of documented citations and additional hundreds of Bible quotes, all of which point to the same events ending in 2019. (His next book, Antichrist 2016-2019, focuses on the many clues pointing to the middle of the final seven years.)
From the author's web site:
Genesis 1:14 tells us that the sun, moon and stars should be for SIGNS.
And the most amazing evidence for a timeline is that the sun, moon, and stars are going to be in positions that act out ALL the major steps of an ancient Jewish wedding ceremony in December 2019. Guess who is coming for His bride?
If the stone top of Egypt's Great Pyramid were completed, it would be 5780 inches high. Several British archeologists believed that the Great Pyramid represents the planet Earth, that the inch is an ancient measurement, and that measurements within the Great Pyramid are prophetic timelines with inches equal to years. The height in inches may refer to Hebrew calendar year 5780, which corresponds with December 2019 and may represent "completion of the world" or the end of the world as we know it in 2019.
At several web sites we can read that Mayan elders consider the focus on 2012 a misunderstanding of "their end date" – and that we only have a focus on "December 2012 FROM THOSE WHO HAVE SPOKEN FOR US. Therefore: We, the Mayans, and in accordance with our calculations, it is our wish that the dates to be considered for the completion of this cycle & the start of the new cycle be the ones signaled in the Mayan Calendar: – OXLAJUJ (13) KEME = COMPLETING this CYCLE of TIME in: 2019."
One positive reviewer gave five stars and said: "Excellent book containing chapters that show the Earth changes information from different perspectives." A negative reviewer gave three stars and said: "While this book was fully documented ( something I appreciate) I believe that the author has taken way to much liberty in presenting facts to come up with his proposal. Though lengthy at times, in descriptions of ancient Mayan writings, the book reads very well and the author does come up with interesting ideas." Other reviewers add "Well written, I believe we'll researched & footnoted, I doubt I would have ordered hard copy, but digital download was a understated find of the decade (what's left of it) and I believe priceless for those whom have been searching, studying, & trying to make sense of the tea leaves being strewn about with eyes that see but do not perceive." and "A must read, more than once. So much information and the math may be out of the common knowledge however it is not impossible to understand unless you lack the motive to do your own research and work, if so that will explain negative and doubtful comments/reviews of this book. It's all referenced and cited, reading this book over again and again to fully absorb the massive information over load. Ordering the second book as well."
.
We encourage you to Share our Reports, Analyses, Breaking News and Videos. Simply Click your Favorite Social Media Button and Share.