Almost forty years ago, Paul Villeneuve, a young construction worker in Quebec, nearly lost his life at a construction site due to lax safety regulations. Villeneuve was close to being buried alive when an excavation trench he was working in collapsed. Indeed, it was a collapse with so much force that it shook the earth nearby, leaving the young man immersed to his waist in soil by the time his fellow workers could dig him out.
Needless to say, the excavation process is complex, one that needs to be done with the utmost care and diligence. When an excavating contractor is first hired, they perform a detailed survey of the lot and its boundaries. They assess soil types, the area's erosion value, and study the adjacent spaces for water sources, land instability, and a host of other factors.
The first step in the excavation process is called grading. This preparation procedure ensures there is a level base or a specified slope at the construction site. Grading is a crucial step that allows for the footing and foundation work to begin.
Once surveying and initial grading have been completed, soil extraction begins. The amount of soil and rubble removed is dependent on the size of the project. For larger structures, tonnes of earth are excavated and removed from the site.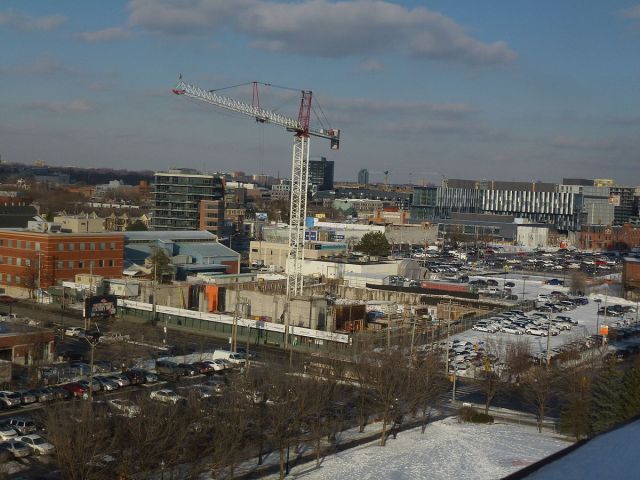 In fact, what to do with the massive amount of dirt collected during an excavation dig is a question that every excavation company has to address. Many excavation companies outsource the task of hauling soil away from the dig to other waste removal contractors.
Interestingly, GFL Excavating Corp., a branch of Canadian environmental services company Green For Life Environmental Inc. (GFL), has been one of the first excavation companies to provide one-stop-shop services to its clients. The company operates its own fleet of trucks, which is used to haul away dirt from excavation sites. Alongside the excavation services provided by GFL, the company also offers complete site remediation work. http://gflenv.com/index.php/services/site-excavating-remediation/overview
Some of the large scale excavation and remediation projects GFL has undertaken in the Toronto area include: The Ritz Carlton Hotel and Tower, Brampton City Hall, The University Toronto at Scarborough Aquatic Centre, and the Athletes Village for Toronto's 2015 Pan Am and Parapan Games. http://gflenv.com/index.php/services/projects
In addition to providing end-to-end excavation services, GFL enforces and prioritizes safety on their work sites.
As a testament to the company's commitment to work site safety, GFL Excavating Corp. became registered under the Certificate of Recognition program (COR™), an occupational health and safety accreditation program endorsed by members of the Canadian Federation of Construction Safety Associations (CFCSA). A program that provides employers with systems to reduce incidents, accidents and injuries, COR™ is now often used as a pre-qualifying or condition of contract by both public and private project stakeholders in Canada.
"We are dedicated to ensuring that all safety protocols and precautions are followed at all the sites we work on," Patrick Dovigi, GFL's President and CEO, comments. "Our zero tolerance stance means we will not permit any unsafe conditions or behaviour." https://about.me/patrickdovigi
In order to ensure the safety of all GFL employees, the company has developed a zero tolerance program on all their work sites. The company's measures to promote a culture of responsibility and safety include establishing an Internal Responsibility System (IRS), which ensures GFL employees integrate health and safety measures into all aspects of their work. GFL also strictly adheres to the province's Occupational Health and Safety Act and is licensed with the Ministry of the Environment.
As part of the company-wide commitment to workplace health and safety, GFL has also incorporated a corporate Occupational Health and Safety program. "We are fully committed to employing highly qualified staff, implementing the latest available equipment, and keeping our workplace and the communities we serve clean and safe," Patrick Dovigi adds. https://ca.linkedin.com/in/patrickdovigi
GFL is not alone in their zero-tolerance stance.
In an effort to reduce workplace injury, the Ontario Ministry of Labour (MOL) conducts regular safety blitzes to make sure worksites and companies are in compliance with the province's Safe At Work Ontario health and safety legislation. The Safe At Work Ontario strategy was introduced in 2004 to prevent injuries and illnesses that could arise from unsafe work practices and to ensure workplace parties are complying with health and safety legislation. http://www.labour.gov.on.ca/english/hs/sawo/about.php
In 1992, recognizing the need for a country-wide worksite safety initiative, the Canadian Federal Government created Bill C-45 under the Occupational Health and Safety branch. The bill serves as a first step toward creating a national regulatory framework for excavation and construction work.
Since Bill C-45's implementation, fewer worksite injuries have been seen across the country. For individuals like Paul Villeneuve and others who have supported national safety initiatives, this is very welcome news.
More positive news: the future of excavation work also promises to offer more robust safety tools, made possible through advances in technology. Scientists and technology entrepreneurs are looking to incorporate 3D printing-modeling and high-powered deep earth imaging, technology that will provide excavation companies more complete knowledge during the pre-excavation phase. This will be one more positive development in an industry that already views safety as a priority. http://www.popsci.com/audi-built-moon-rover
We encourage you to Share our Reports, Analyses, Breaking News and Videos. Simply Click your Favorite Social Media Button and Share.