By Joseph DeCaro, Worthy News Correspondent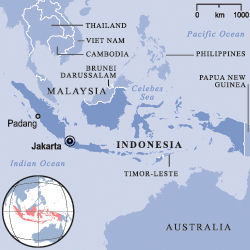 JAKARTA, INDONESIA (Worthy News)– The Ulema Advisory Council of Banda Aceh has instructed its Muslim community not to celebrate Christmas and New Year's.
Instead, the Council wants Aceh's authorities to strictly enforce Islamic law by severely punishing anyone who violates it; for example, Christian ceremonies must not disturb or cause problems for Muslims at work, at home or even when they are staying in hotels, which are already prohibited from holding holiday celebrations, according to AsiaNews.
Just days before the holidays, the Council's leaders issued a statement that seasonal celebrations don't belong to the Islamic tradition, but are typical of Western and Roman cultures and therefore should not be celebrated by Muslims.
In year's past, Indonesians have rung in the New Year with dancing, drums and fireworks, but the head of the Ulama Consultative Council, Tengku Karih Syeik, has proclaimed that this activity isn't in the spirit of Islam.
In a statement to his fellow Muslims, Syeikh said they should not send greetings and "best wishes" to Christians because "Christmas is not an integral part of the Islamic tradition." According to sharia, it is haram (forbidden), therefore Muslims must refrain from going to parties, celebrations or other festivities over the coming days.
Although Indonesia is the most populous Muslim nation in the world, Aceh is the only province where sharia is strictly enforced; Catholics represent about seven million, or 3 percent of the Indonesian population, but though the country's constitution recognizes religious freedom, they and other Christians have often been the victims of violence.
Source:
http://www.worthynews.com/12704-indonesia-christmas-and-new-year-are-haram
We encourage you to Share our Reports, Analyses, Breaking News and Videos. Simply Click your Favorite Social Media Button and Share.