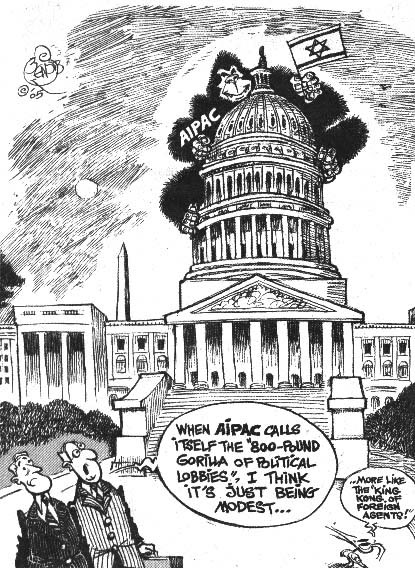 Part 1: The Debunked Middle-Eastern Roots – Part 2: The Debunked Anti-Semitism Hoax – Part 3: The Debunked Holocaust Hoax
Whenever Jews get criticised for doing the wrong thing, they accuse their opponent of 'anti-Semitism'. "It's a trick we always use", admitted former Israeli minister Shulamit Aloni in an interview with Jewish-American Journalist Amy Goodman.
So here you got it right form the horse's mouth that Jews are motivated by a sinister agenda when accusing their opponents of anti-Semitism. But what is it exactly what they are accusing them of? We know that it has nothing to do with ill feeling towards Semites. Anyone familiar with the Jewish-Palestinian conflict must have heard of Arthur Koestler's The Thirteenth Tribe or Shlomo Sand's The Invention of the Jewish People and be well aware of the fact that modern Jews are no Semites, but the descendants of converted Mongolian-Turk and North African Berber tribes.
Misnomer issues aside, what the term anti-Semitism really implies is that its 'sufferer' is plagued by some irrational, if not pathological hatred towards Jews, mainly on racist or religious grounds. The truth though is that there might be nothing pathological or irrational about ill feeling towards Jews. If only half of the common accusations made against Jews were founded then those ill feelings would be more than justified.
I'm sure by know the usual Pavlovian conditioning has kicked in by many casual readers and made them close this page or even report the Rebel site to the Thought Police, which is good, because I'm now going to spell out some of those commonly made accusations and express my thoughts to which extent they are based on true facts.
Jewish responsibility for the killing of Jesus
Whether you believe the Christian or the Jewish narrative, it goes without question that the Jewish establishment was responsible for Jesus' killing. If the Christians are right, then it was the Jewish religious leadership who forced the Roman governor to crucify Jesus for blasphemy. If the Jews are right, it was they themselves who killed Jesus in even more gruesome ways. For details see Michael Hoffman's very scholarly "Judaism Discovered".
In spite of my Catholic Taliban upbringing, I don't have much sympathy for Christian resentments against modern day Jews for what some Jewish mob did to their religious founder some 2000 years ago. What I can relate to though is their ill feelings towards the little disguised Jewish hatred towards everything Christian in general and Jesus in particular. That hatred has been irrefutably documented in Hoffman's above mentioned "Judaism Discovered" as well as David Duke's "Jewish Supremacism". Here just a typical example of that hatred.
The 'Blood Libel'
Accusations that Jew had abducted and slaughtered a young Christian child as part of their annual Passover ritual have plagued Jewish public relations for centuries. In fact, they have been the trigger for the majority of the 200+ expulsions Jews had to endure in Europe throughout the past 1000 years. It was only thanks to the Jewish domination of the mass media and academia that these persistent accusations and rumours have been labelled as 'Blood Libel' and established – in the belief system of many Westerners – as one of the prime causes for anti-Semitism.
These successful lobbying efforts were given a mortal blow with the publication of Ariel Toaff's Blood Passover. Unfortunately for the lobby, Ariel Toaff was Jewish himself, not just anyone, but the son of the highest ranked Italian rabbi and a well-known historian specialising in the Middle-Ages.
Due to massive professional and family pressure, Toaff was since forced to withdraw his book, but you can find a PDF version following above link.
The Protocols of the Learned Elders of Zion
While it is not so uncommon in fundamentalist Christian circles to talk about the 'blood libel', the Protocols of the Learned Elders of Zion are one of the biggest taboo topics in Western society. Contemplating their authenticity virtually guarantees career and social suicide, in spite of the fact that the plans outlined in the document have been precisely implemented. Many fellow activists have described those 'coincidences'. Here is just one example published by Br. Nathanael Kapner on his popular Real Jew News site:
Protocol #9:10 - WE WILL CORRUPT THE YOUTH OF THE GOYIM (derogatory term for "Gentiles") BY REARING THEM IN PRINCIPLES WHICH ARE KNOWN TO US AS FALSE.
FULFILLMENT: Jews in control of the American Teachers Association are teaching homosexuality and lesbianism to elementary school students.
~ Jews who control the Media such as MTV & Homo TV LOGO are teaching the youth fornication and sodomy.
See: "ACLU Jews Promote Perversion In Schools" Here
And: "Jew Sumner Redstone' Runs Homosexual TV" Here
Protocol #12:4 - "NOT A SINGLE ANNOUNCEMENT WILL REACH THE PUBLIC WITHOUT OUR CONTROL. All news items are received by a few agencies from all parts of the world. These agencies will be entirely in our control and will give publicity only to what we dictate to them."
FULFILLMENT: Jews control the media in the USA, Canada, Great Britain, France, & Germany.
~ In America alone, Jews own CBS, NBC, ABC, Time, Newsweek, US News & World Report, Wall Street Journal, New York Times, Washington Post, etc.
See: "Jewish Media Moguls" Here
Protocol #14:1 - "WHEN WE COME INTO OUR KINGDOM IT WILL BE UNDESIRABLE THAT THERE SHOULD EXIST ANY OTHER RELIGION THAN OURS AS THE CHOSEN PEOPLE. WE SHALL FORBID CHRIST. We will sweep away all other forms of belief besides ours."
FULFILLMENT: Jews have waged war on Christianity beginning with the English Revolution, French Revolution, Bolshevik Revolution, Kosovo Independence, and in America, through their lie, "separation of church & state."
See: "Jews Are Finishing What They Started" Here
And: "Separation Of Church & State Is A Jewish Lie" Here
Protocol #16:7,8 - "WE SHALL CHANGE HISTORY. We shall abolish every kind of freedom of instruction for the purpose of turning the Goyim into unthinking submissive brutes."
FULFILLMENT: Ivy League Colleges which were once Christian Seminaries are now inundated with Jews who carry with them their age-long Anti-Christian bias. Harvard, Princeton, Dartmouth, and University of Pennsylvania, all have Jews as continual-running Deans.
~ Jews are in leading positions in the American Library Association, (Leslie Burger, President) & the American Federation of Teachers, (Ted Kirsh, President).
~ Publishing Houses such as Random House and Simon & Shuster, are owned by Jews. Macmillan Publishing has as its CEO the Jew Richard Charkin who also served as Executive Director of Macmillan's huge Umbrella German Publishing House, Verlagsgruppe Georg von Holtzbrinck Publishing. Here
See: "Seinfeld & Jewish Propaganda" Here
For more study on the topic, I recommend the very comprehensive Jew Watch site. If it was any other group, for example Muslims, with a leaked plan outlining how to systematically destroy their host society, supported by plenty of evidence that those leaked plans are being systematically implemented, those host societies would do whatever it takes to stop the conspiracy. The fact that this is not happening here goes to show how powerful the Jewish grip already is on Western societies.
The 'Auschwitz Lie'
Any claims by Holocaust revisionists and their followers that there might be anything wrong with the mainstream narrative of the alleged industrial-scale slaughter of six or more million Jews by Nazi Germany is not only illegal in many countries, thanks to aggressive Jewish lobbying, but widely regarded as the worst of all 'cardinal sins' of anti-Semites. I will elaborate on this complex topic in a dedicated chapter of this article series. For now I only want to say as much as if the various Holocaust denial laws were – as claimed – to be about protecting historic truth from vicious anti-Semitic lies, accused 'deniers' and their lawyers would be allowed to defend their supposedly libellous claims by providing supporting evidence. The fact that they are not is proof that those laws are not about protecting the truth from libellous lies, but to protect libellous lies from the truth.
The debunking of the anti-Semitism hoax
There can be no doubt that the Internet has contributed to a world-wide awakening to the threat that Jews pose to the freedom and survival of humanity. The genocidal Israeli treatment of its Native Palestinian population and the hyper-aggressive treatment of its neighbours and – internationally – anyone getting in the way of their evil plans, has caused many people – like this writer – to investigate how 'irrational' the supposedly racist accusations are that 'anti-Semites' are making against Jews. The real question to me is not whether those accusations are true, I'm sure most of them are, or whether resulting ill feelings towards Jews are justified, I certainly can related to them, but to which extent those feelings can be directed to all Jews as a group. My view is that Jews have been acting as a group and covering for each others' evil doings for too long to still get away with claiming individual innocence. As long as they remain part of that group, they have to be considered accessories to the crime.
Part 1: The Debunked Middle-Eastern Roots – Part 2: The Debunked Anti-Semitism Hoax – Part 3: The Debunked Holocaust Hoax
Rebel of Oz is the editor/publisher of the dissident Rebel site.
Source: therebel.org
We encourage you to Share our Reports, Analyses, Breaking News and Videos. Simply Click your Favorite Social Media Button and Share.