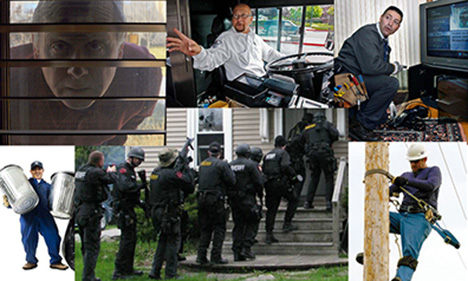 Who Are The Government's Gang Stalkers?
"Those who can make you believe absurdities, can make you commit atrocities." —Voltaire.
Hello everyone, this is part four of five on this website of my series on gang-stalking using excerpts from my book "Sin Thesis".
Here we will try to answer who the government's gang stalkers are. My belief is that the US has an overall agenda of nothing less than total global rule. Gang stalking then is an ongoing experiment in population control. Ruling the world necessitates controlling entire populations of individuals. The vast majority will be compliant, but for some an individualized strategy is used. For others you have been labeled "enemy of the state" some for your ideologies but for most it is random. Your country will betray you and your lives will be sabotaged..
The methods have varied, but this has been going on since the beginning of civilizations. Some tyrants of old would pacify the peoples with food or by creating work to give them the appearance of a just state. Of course between then and now we'll have to skip the history lessons. The evolution of tyrants into seemingly possessed almost non-human EVIL entities befell the 20th century. Committing inhuman atrocities, war crimes, mass-torture and mass-exterminations on industrial levels. Control was achieved through terror. Only now the evildoers desired global control.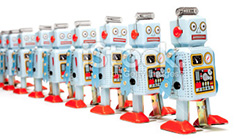 Throughout history, many world powers have come and gone. Some lasted for several hundred years and some for very short periods. The US has been a world power arguably for about 70 years. Will it last? Many believe it won't last for more than another couple of decades as a super power. Many writers, researchers and historians write that the US has modeled itself after NAZI Germany and will start WW3…. Putin in a recent speech said exactly that. The only option for the US is to fast track its secret plans.
—"The rest of the world believes that the US poses the greatest threat to the world" — Huffington World Post—
In their study paper "US Magnetic Weapons and Human Rights" by Peter Philips, Lew Brown and Bridget Thornton (The Sonoma State University Project – Censored Media Freedom Foundation) they write:
"We are in a time of extremism, permanent war, and the unilateral manifestation of ethnocentrism and by a cabal of people in the US government. These power elites have been in operation for decades and are set on nothing less than the total US military domination of the world. They defy the foundational values of the American people to achieve their ends. This is nothing new. The repression of human rights has been present within the US government throughout our history."
I have to agree with this study, it's all about US military domination of the world! Did you think it was only about torturing innocent citizens? For many of those targeted it probably feels that way but many books and studies have the US positioned as the modern day Third Reich. So how did we get to this dark place?
During the cold war the US learned that the Soviet Union was experimenting with mind control and of course the US had to compete. Without getting too involved, there are plenty of books on the subject. Also after WW2 the US gave haven to some NAZI scientists and obtained their human research experiment data from the Dachau prison camp. Using prisoners as test subjects they compiled massive amounts of information. Like, how long a pilot could survive after being plunged into 40 degree ocean water from a shot down aircraft.
Now the US doesn't openly do human experiments here, right? No! We do them SECRETLY… The truth is, much of the experimentation would turn to the mind because a more passive control was required. These new technologies would still need test subjects but with possible illness, injury or death being side effects, random unwitting citizens were used. When your goal is to control the people of the world they aren't necessarily going to go along with it. But what if they didn't know? Timothy L Thomas wrote in the U.S. Army War College Quarterly; "The Mind has no Firewall." Therefore is susceptible to all form of non-detectable intrusions.
So NSA Lt. Colonel Michael Aquino's military white paper "From Psyops to Mind War" laid out our blueprint for classic US gang stalking tactics. Then we mixed that with NAZI collaborator techniques like civilian spying, neighborhood informants, "see something – say something" and the reward of good citizenship… These methods work well for TIs, but have little use for the masses and have led to thousands of complaints per month to police, civil rights groups, etc…
However, scientists already figured out that all different types of waves, like light, sound, magnetic, micro and ELF waves could affect humans. This was a GREAT discovery for crowd control and weapons of war. They can kill instantly or slowly depending on the type and wave length. They can burn skin, cause organ damage or cancer. They can penetrate the walls of your home, office or vehicle and can be focused. They are invisible, can't be heard, felt, are untraceable and their use can easily be denied in the case of injury or death.
It's the perfect silent kill weapon and another form of no-touch torture. Again "plausible deniability." That all sounds great, but that isn't the goal. The goal is controlling thoughts. The US already knew that the mind has no firewall and brainwave frequencies are around 8Hz. So tuning wave emitting devices to 8Hz can interfere with the mind. Within this range the victim in most cases would never know or be able to prove they were being bombarded.
However the most important aspect to this is that these frequencies can be transmitted globally like radio waves. Then the ultimate goal is to transmit information at 8Hz directly into the minds of the entire population. I've written a companion article on this site called "Uncovered Photo Evidence of Global Mind Control Experiment?" Using leaked GOES-10 Naval satellite photos, I show that indeed these very specific 8Hz frequencies are being transmitted globally.
The biggest drawback to the US is that the rest of the world leaders including the UN want to permanently ban all of these types of weapons because of the potential for misuse. Vladimir Putin banned mind altering (psychotronic) weapons in Russia back in 2001.
OK, we all know that most targeted individuals as with MK-Ultra are random. The rest I believe pick themselves by standing out. They become classified "enemies of the state." They are often writers, journalists, politicians, organizers, protestors, whistle blowers, lobbyists, etc… The fact is, most of the population of the US is on some list. Some Tea Party members, animal rights activists and gay rights advocates are just a few that we know of.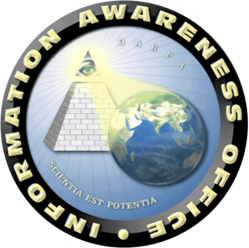 Before the current incarnations of civilian spying agencies, there were agencies like TIA (Total Information Awareness). TIA however was never looking for terrorism. Their official mission statement in 2003 was to gather and store information on every single US citizen. Every job you worked, income history, medical records, education, family, friends, associates, organizations, activities, spending habits, travel. Everything you can possibly think of.
Who looks at all this information? Probably no one unless you are targeted or do something to become someone of interest. Then they pull up the info. Who decides which citizens get targeted and who coordinates the stalking? Well first we need targets to justify Homeland Security's 75 billion dollar budget. So as author David Icke said "Problem = Reaction = Solution." It goes back much further to the formula "Thesis = Antithesis = Synthesis" this is credited to German philosopher Hegel circa 1800.
Decide what you want and in this case "population control." Create a problem "false flag terrorism" and the people will demand a solution. We satisfy this formula by curtailing civil liberties with more government control.
The government then employs a police state under the guise of homeland security. The DHS in turn created 78 state and regional Fusion Centers to gather information. They do this through local law enforcement, emergency management, public health and corporations. They also work with federal agencies like the FBI and believe it or not the military. Data is then shared throughout the network of participants.
In a report presented in 2012 to the House Permanent Select Committee on Intelligence, the Aspen Institute of Homeland Security Group advises:
"We move away from a defensive position of protecting the country from foreign terror threats. Instead we should focus on becoming a domestic security architecture concentrating on offensive measures on single adversaries."
Domestic, offensive? That to me translates to "targeting citizens." The report suggests that the mechanisms created in the wake of 9-11 be refocused to include drug cartels, organized crime and a more all-inclusive approach or what is described vaguely as "emerging adversaries within our borders." An anti-terrorist war machine turned into a domestic law enforcement tool.
This makes sense because in this same two-year investigation they found that these "Fusion Center's" efforts to compile local intelligence data have not yielded any significant useful information on terrorism.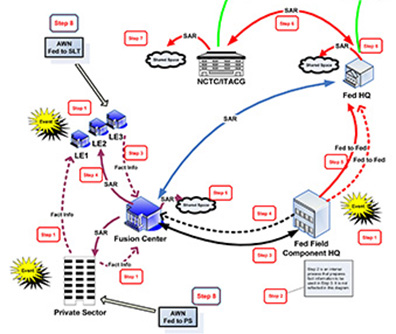 (Photo above shows Fusion Center flow chart. Private sector bottom left and yellow marking fictitious events.)
Currently the US trains "Terrorism Liaison Officers" (TLOs) to instead identify potential domestic targets. These TLOs represent their organization and report directly to the fusion centers. TLOs are appointed by their state, local or civilian agencies and go through a 24 to 40 hour federal training. They are made up of police, firemen, paramedics, and civilians. Postal, utility, hospitality and transportation workers are also involved. Everyone else is brought in as civilian collaborators. Friends, family, neighbors, co-workers, police informers are often encouraged to participate often through deception.
Criticisms resulting from these investigations and civil rights groups are saying that innocent citizens are making the lists. Even worse, there are no safeguards in place for who makes the list or taking someone off. Investigators found people on watch lists for, shoplifting, taking senseless photos and even fishing outside of known fishing areas. Taking photos and such are subjective. I know a TI who takes pictures of trees, flowers, water and nature. People like this are listed.
Other accusations are that they are side stepping laws and violating rights alleging workers having access to your home are spying without warrants. Cable and phone techs, utility workers even the trash collectors going through your trash. Your bus driver is watching you and your neighbors are peeking through your windows. Fusion centers are also sharing confidential information with local police and civilians. This type of big brother policing can never end well.
DHS spending on fusion centers was estimated at $1.4 billion between 2003 and 2011, the subcommittee said. But the DHS spokesman Matt Chandler did not respond to a Federal Times request for the 2012 budget. Although the fusion centers are overseen by Homeland Security, they are primarily funded through local grants from the Federal Emergency Management Agency (FEMA). However Homeland Security can't account for where the money went and FEMA is clueless.
I'll paraphrase here: "Unfortunately, DHS has resisted oversight of these centers. The Department opted not to inform Congress or the public of serious problems plaguing its fusion centers. When we requested documents that would help identify these issues, the Department insisted that they were protected by privilege and confidentiality. It's troubling that these centers designed to help have become such a problem. Instead of strengthening our counterterrorism efforts, they have turned on Americans' civil liberties," said Senator Tom Coburn, who initiated the investigation.
So who are the government gang stalkers? All the "GOOD" people of course! And so now you know!!!
This article was written using excerpts from the non-fiction book "Circle of Snakes – How to Stop Your Gang Stalking" available at Amazon, Kindle, Createspace: written by the author Robert Torres under the pen name Bobby Towers. FaceBook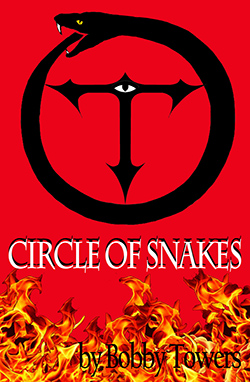 We encourage you to Share our Reports, Analyses, Breaking News and Videos. Simply Click your Favorite Social Media Button and Share.