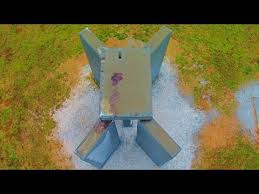 Someone flying a drone over the Georgia Guidestones noticed these stains, (which are only on the top of the stones, and not visible from below) possibly from a recent blood sacrifice.
A local pastor had warned that a pagan site like this might eventually lead to Satanic rituals being performed there.
Could it be more than that?
Could a group be hoping to SUMMON something evil?
<iframe width="640″ height="360″ src="https://www.youtube.com/embed/NhP50VFV0jE?feature=player_detailpage" frameborder="0″ allowfullscreen></iframe>
Maybe it's related to the expectation of an Antichrist coming in 2016, as suggested in books like
Time will tell. The site's owners have surveillance camera on 24/7. If it was just drunk kids climbing up and spilling cranberry juice they can tell us soon and dismiss the hype. But if there is anything to the rumors, we might not know until 2016.
We encourage you to Share our Reports, Analyses, Breaking News and Videos. Simply Click your Favorite Social Media Button and Share.