Mysterious Russian Radio Signal UVB-76 – Broadcasting Code to Spies Since 1970s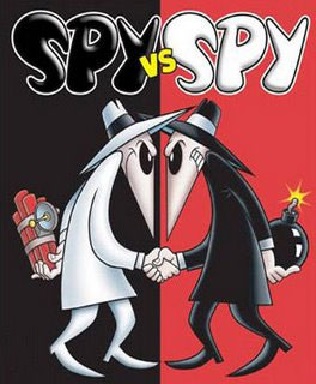 "OBYaVLENIYA KOMANDA 135″
For the first time in a history that stretches back nearly 40 years, the mysterious Russian radio signal popularly known as UVB-76 had issued an order on Jan. 24, 2013.
What does this coded Russian military order mean? Who was the intended recipient?
The Russian radio signal that occupies 4625 kHz has reportedly been broadcasting since the late 1970s. (Why have I never heard of this before on the conspiracy theory shows or articles I've seen?) The most credible explanation of UVB-76 is that it is a Russian military communication system. The coded messages are announcements for various military districts, [and quite probably agents overseas as well] enabling a simple means of communicating with multiple units at the same time.
Wikipedia says "UVB-76, also known as 'The Buzzer', is the nickname given by radio listeners to a shortwave radio station that broadcasts on the frequency 4625 kHz. It broadcasts a short, monotonous buzz tone, repeating at a rate of approximately 25 tones per minute, for 24 hours per day. On very rare occasions, the buzzer signal is interrupted and a voice transmission in Russian takes place. The first reports were made of a station on this frequency in 1982. Its origins have been traced to Russia, and although several theories with varying degrees of plausibility exist, its actual purpose has never been officially confirmed and remains a source of speculation."
Ever since curious owners of shortwave radios first discovered the signal, (and for who knows how long before that) it has broadcast a repeating series of beeps, usually varying between 21 and 34 beeps per minute. After many years, the beeping changed to a buzzing noise. Every few years, the buzzer stops, and a Russian voice reads a mixture of numbers and Russian names.
It's easy to dismiss the signal as pre-recorded, or a looping tone. But what listeners quickly realized was that UVB-76 is not a recording. The buzzer noise is generated manually. The reason for hearing telephone conversations and banging noises in the background of the signal is that a speaker creating the buzzer is constantly placed next to the microphone. The buzzing noise is thought to be a channel marker that exists to discourage others from using the same frequency.
A typical message came hours before Christmas day, 1997:
"Ya UVB-76, Ya UVB-76. 180 08 BROMAL 74 27 99 14. Boris, Roman, Olga, Mikhail, Anna, Larisa. 7 4 2 7 9 9 1 4"
The radio signal seems to provide an easy way for the KGB/military to send coded messages to its people. I presume these are used as instructions. The message in January 2013 was simple and brief. Others followed. Instead of shutting down with the fall of communism in Russia, UVB-76 became even more active. Since the millennium, voice messages have become more and more frequent.
The closest thing to an official explanation for the signal's purpose comes from an academic paper published by the Borok Geophysical Observatory. This state-funded organization describes itself as a "branch of the Federal state budgetary institution of science." They explain that the signal originates from an observatory using the 4625 kHz frequency to measure changes in the ionosphere.
Since October 2010, the station has changed location. A flurry of activity and voice messages preceded this relocation – the most important development in the signal since it began broadcasting in the 1970s. It seems likely that the heightened activity of 2010 was related to the establishment of the signal in a new location. The new call sign was read out after the move: "MDZhB".
Previous triangulation efforts had led to the discovery of the transmitter for UVB-76: a Russian military base on the outskirts of Povarovo, a small town 19 miles from Moscow. After the station changed location, two groups of urban explorers and UVB-76 followers traveled to the remote Russian town in an attempt to visit the military bunker that the signal had originated from for over 30 years. A book was found that contained a log of messages sent by UVB-76. The signal that had fascinated the world for years now had a physical presence, along with confirmation that it had been run by the Russian military.
But the mystery continues to this day. Sporadic voice messages are still emitted from newer locations. Legions of listeners tune in via radios and online streams every day. A file can be downloaded from a link that allows followers to listen to UVB-76 in iTunes.
Along with a renewed interest in studying and archiving the broadcasts of UVB-76, multiple triangulation attempts have been made to try and ascertain the new location of the signal. Unlike before, it seems that UVB-76 is emanating from multiple transmitters across Russia. Triangulation has given rise to three possible locations.
One possible location is the small Russian village of Kirsino, population: 39 people. One signal can be traced to this military site, but the favorite pick is near the Estonian border in the Pskov Oblast. This is currently the most likely source of UVB-76, due to the multiple triangulation attempts that lead here.
*
So now that we understand a little more about this 40 year Russian radio broadcast, we must ask – why did it issue its first clear COMMAND instructions on January 24, 2013?
OBYaVLENIYA KOMANDA 135
* We are now leaving the source material on this topic, most of which (aside from the last Wikipedia quote) can be found in an article at The Daily Dot: http://www.dailydot.com/technology/uvb76-russia-mystery/ My first thoughts on this may have nothing to do with reality, but you'll understand why my mind took me here in a moment:
If the embedded video doesn't work, CLICK LINK TO VIDEO HERE
If it isn't clear what was said in this 2012 clip, in which Obama did not realize the microphone was still on, he responded to Russian President Dmitry Medvedev's request and said: "This is my last election. After my election I have more flexibility." The only interpretation I (or thousands of other viewers have) is that Obama is agreeing to do something the Russians want him to do, but is suggesting that it has to wait after he is re-elected (November 2012) to do whatever unpopular thing it may be – which requires the greater flexibility of not having to worry about risking losing the election over it. Russian President Medvedev replies: "I understand. I transmit this information to Vladimir" (Putin.)
The inauguration starting Barack Obama's second term as president was January 20, 2013. That week, the Russian command – the first and only clear command given by radio on UVB-76 in 35 years of continuous broadcasting, was:
OBYaVLENIYA KOMANDA 135
Could the "1″ and the "35″ mean it was the 1st command of the 35th year of these broadcasts? "Komanda" is clearly "Command." The first word means nothing as spelled (in Russian) and Google Translate interprets it as possibly Turkish (still no meaning.) So assuming it is in code or a combination of abbreviations, could the OB refer to anyone who just got more flexibility in his second term? Wikipedia also tells us that in 2010, there was a brief conversation broadcast in which a female voice said: "got the control call from Nadezhda OK."
"Nadezhda" in Russian means "Hope." Anyone come to mind that might get nicknamed "Hope"? Could it be Mr. Hope and Change? Could there really be a Manchurian Candidate in office? And if he is, what is he doing that might be so anti-American that it could have cost him the election if he had done it earlier? Something that will still make Vladimir Putin happy later? Are we watching the results unfold in Syria today?
Maybe such wild speculation is completely off base. Time will tell.
But before (what I believe to be the crucial) time is reached, you still have time to read my last book:
Antichrist 2016-2019: Mystery Babylon, Barack Obama & the Islamic Caliphate
We encourage you to Share our Reports, Analyses, Breaking News and Videos. Simply Click your Favorite Social Media Button and Share.