Headline: Bitcoin & Blockchain Searches Exceed Trump! Blockchain Stocks Are Next!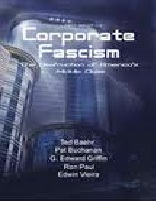 Title: Corporate Fascism – Destruction of the Middle Class
Director: James Jaeger
Year: 2010
Corporate Fascism explores a new kind of fascism, the merger of corporations and government whereby corporate power dominates. With the emergence of ever-larger multinational corporations — due to consolidation facilitated by the Federal Reserve's endless FIAT money — the corporatocracy has been in a position to literally purchase the U.S. Congress. As a result, many of the nation's "laws" have been re-configured to benefit WE THE CORPORATIONS, rather than WE THE PEOPLE. "Laws" like NAFTA and GATT resulted in the outsourcing of the U.S. manufacturing base and the destruction of the Middle Class. This is nothing less than the 1 Percenters abusing the 99 Percenters. Known as "monopoly capitalism," "crony capitalism," "mercantilism," "globalization," "the new world order," and/or "free trade" — this is NOT your Grandfather's capitalists. (summary from corporatefascism.org)
Economic \"Truth\" Articles www.economicreason.com
Source:
We encourage you to Share our Reports, Analyses, Breaking News and Videos. Simply Click your Favorite Social Media Button and Share.