A debt inspired milestone – US Public Debt to GDP ratio over 102 percent. In the early 1980s public debt grew at one point by 20 percent. We hit that point in the 2000s yet GDP did not come along.
What is the significance of having too much debt? Does it even matter? It seems that politicians understand something must be done but while the bickering occurs, the status quo remains. We recently surpassed a milestone when it comes to our debt. Total US Public Debt to GDP now stands at over 100 percent. That is, we have a larger public debt than what we produce per year as an entire nation. The last time this occurred was during World War II. Europe is dealing with massive debt as well and many countries within the union are in depressions like Spain and Greece. There now seems to be a marginal impact on the real economy with every increase in the public debt. There isn't a fast rule of thumb as to what is the maximum level of debt but going over 100 percent of our GDP is not exactly a good starting point.
US Public Debt to GDP
To put this debt growth in perspective, we should look at the debt growth over time. We should look all the way back to the 1950s: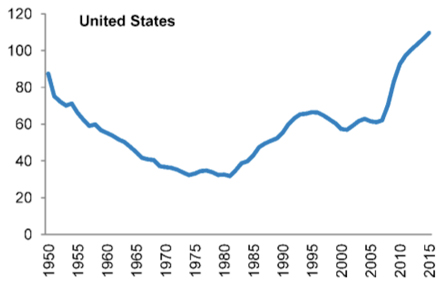 Source: IMF
The decline in debt as a percentage of GDP brought along some of the strongest growth to US households and a vibrant middle class. A strong US dollar also helped most Americans. This is important to keep in mind as we see pundits make the argument that somehow massive debt and a weak US dollar are somehow good for US households. Since we purchase much of our goods from abroad, this merely means we will be able to buy less for more. Think of oil that is sold and bought in global markets. Even though prices are starting to come back down, they have remained elevated for many years in combination with falling or stagnant household incomes.
It might be useful to put the growth of US public debt into a more recent context: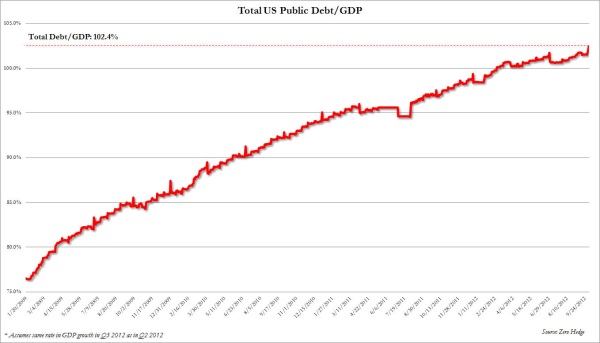 This isn't exactly a positive sign. Ideally, you would want to see stronger GDP growth and more moderate (if any) growth with the public debt. Yet this is a pattern that has been going on for many decades at this point.
Read the rest at My Budget 360
Source:
We encourage you to Share our Reports, Analyses, Breaking News and Videos. Simply Click your Favorite Social Media Button and Share.