by Pam Martens and Russ Martens, Wall St On Parade: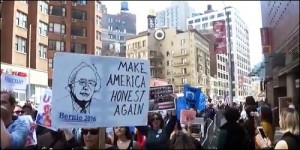 Northwest Ohio supporters of Senator Bernie Sanders' in his run for President have launched a nationwide push to enlist other organizations to send it letters and take to social media to endorse a demand that President-elect Donald Trump fulfill a campaign pledge. Trump made the pledge on October 26 of this year in a speech he delivered in Charlotte, North Carolina, promising to enact a 21st Century Glass-Steagall Act to reform Wall Street. Such legislation has been sitting dormant in both the House and Senate for years. If enacted, it would separate the deposit-taking, taxpayer-insured commercial banks from the globe-trotting, high-risk trading casinos known as investment banks on Wall Street.
The 1933 Glass-Steagall Act kept the financial system of the United States safe for 66 years until its repeal in 1999 during the Bill Clinton presidency. It took only nine years after its repeal for Wall Street to blow up the financial system in a replay of 1929. All that prevented another Great Depression was a massive, secret money drop by the Federal Reserve.
Following the financial crash in 2008, the Federal Reserve fought for years in court to avoid providing details of the money it funneled to the Wall Street banks during the years of the crisis. When the Fed finally lost the legal fight, the Government Accountability Office (GAO) tallied up the secret Fed loans, all of which had been made at super low, below-market interest rates with no public or Congressional disclosure. The final tally came to $16.1 trillion in cumulative loans. (See the GAO report for a bank-by-bank breakdown of the loans.)
While Wall Street banks received trillions of dollars in almost interest-free loans, many of the same banks were charging the customers they had rendered homeless through foreclosures, double-digit interest rates on their credit cards.
During Trump's speech in Charlotte on October 26, he delivered the following remarks: (See video clip below.)
Read More @ WallStOnParade.com
We encourage you to Share our Reports, Analyses, Breaking News and Videos. Simply Click your Favorite Social Media Button and Share.