[Hat Tip: SGT Reader "Alex"]
Authorities say fire in turbine hall was outside nuclear zones of Flamanville power station near Cherbourg
from The Guardian: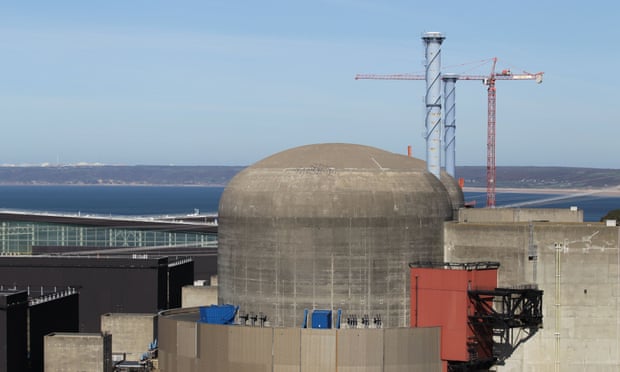 Authorities have said there is no risk of contamination from an explosion that occurred at EDF's Flamanville nuclear plant in northern France.
EDF said the blast at 9.40am on Thursday was caused by a fire in the turbine hall, which is outside the nuclear zones of the power station, located 15 miles west of the port of Cherbourg. Five people were treated for smoke inhalation.
The nuclear operator said an on-site team brought the fire under control, and the incident was declared over by 11am. One of the plant's two water-pressurised reactors was shut down after the explosion and remains offline.
The cause of the fire is unknown, though authorities have ruled out sabotage. Experts said the explosion appeared to be a relatively minor event and did not pose a safety risk.
"Though any accident at a nuclear site must be taken seriously, I wouldn't call this a nuclear accident as there was no release of radioactive material and the reactor was not affected," said Jim Smith, professor of environmental science at the University of Portsmouth. "There doesn't appear to be any risk to the general public."
Mycle Schneider, a Paris-based nuclear consultant, said fires in a nuclear plant were always "bad news" because of side effects such as smoke.
"However, in this case, the fire had apparently been contained and rather quickly brought under control. I don't think this was a major event at all."
Other nuclear experts noted that because of the design of the plant's reactors, water passing through the turbine would not have gone through the reactor's core, so it was unlikely there was a radioactive release. "There were no consequences for safety at the plant or for environmental safety," EDF said in a statement.
A new third-generation reactor known as EPR is being built at Flamanville and will be the world's largest when it goes into operation in late 2018. Construction of the new plant began in 2007 and was initially scheduled for completion in 2012 but has been delayed several times and is over budget.
The design of the new reactor is the same as the one planned at Hinkley Point C, which will be the UK's first new nuclear power station in two decades.
We encourage you to Share our Reports, Analyses, Breaking News and Videos. Simply Click your Favorite Social Media Button and Share.