by Steve St. Angelo, SRSRocco Report: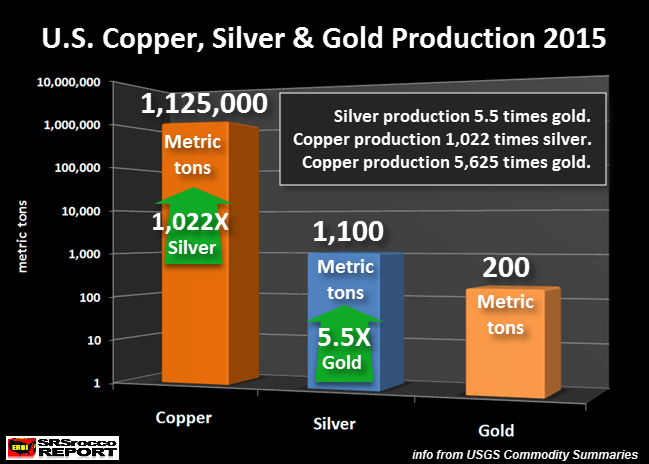 While there have been countless articles written about the Gold-Silver Ratio, they did not include the information that will be provided in this article. Most of the information or analysis on the gold-silver ratio has been based on its "price ratio" and little else.
Unfortunately, price ratios are only a small part of the overall picture. To get a better understanding of the gold-silver ratio, we have to include data that has been overlooked by the industry. For example, it is important to understand how the metals are produced, as it is a leading indicator of the current price mechanism.
I decided to use statistics from the United States, as it is a good indicator of what is taking place in the rest of the world. Furthermore, the USGS – United States Geological Survey provides excellent data on the gold and silver industry. In addition, I have included statistics for copper, as the king base metal adds more evidence to the price ratios of the metals.
According to the USGS, this was the breakdown of U.S. copper, silver and gold production in 2015: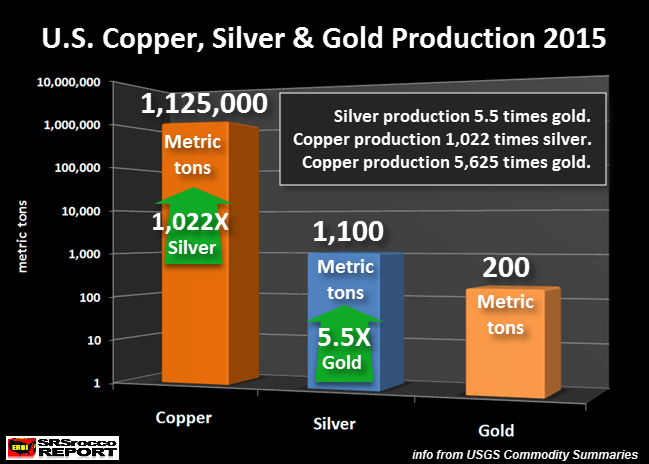 In 2015, the United States produced 1,125,000 metric tons (mt) of copper, 1,100 mt of silver and 200 mt of gold. Thus, the U.S. produced 1,022 times more copper than silver and 5.5 times more silver than gold. Globally, here are the production ratios for 2015:
Global Copper, Silver & Gold Production Ratios For 2015:
Copper = 18.7 million tons (685 times silver)

Silver = 27,300 metric tons (9 times gold)

Gold = 3,000 metric tons
These figures came from the USGS and are a bit different from the data GFMS puts out in their Gold and Silver Surveys. However, they are a good representation of the different metal's production ratios. As we can see, the world produces a heck of a lot more copper than silver, and a lot more silver than gold. The notion that the price of gold and silver should be based upon their production ratio of 9 to 1, is not currently true as the price ratio is 69 to 1… nearly eight times higher.
Now, one important factor in determining the current gold-silver ratio (and copper) is how it is produced. Again, many articles continue to state that the gold-silver price ratio should be closer to their annual production ratio. However, this does not include a very important factor… the production ratio per worker: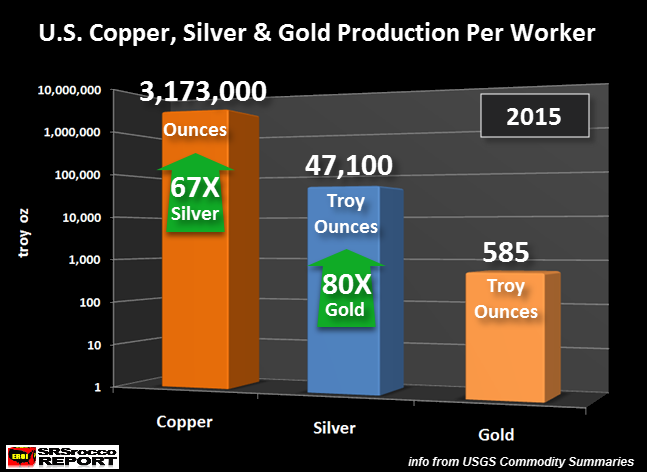 I converted the metric ton figures in the first chart to ounces or troy ounces and divided them by the total number of workers for each metal. Each copper worker produced 3,173,000 ounces of copper compared to 47,100 oz for silver and 585 oz for gold. Thus, each worker produced 67 times more copper than silver and 80 times more silver than gold.
Here are the worker figures for the U.S. copper, silver & gold industry in 2015:
Copper = 11,400 workers

Gold = 11,000 workers

Silver = 750 workers
While it is true that not all gold and silver production comes from primary gold and silver mines, this still provides us a good ratio of the amount of metal produced by each worker.
Now, if we look at the price ratios of each metal in 2015, we can spot an interesting correlation: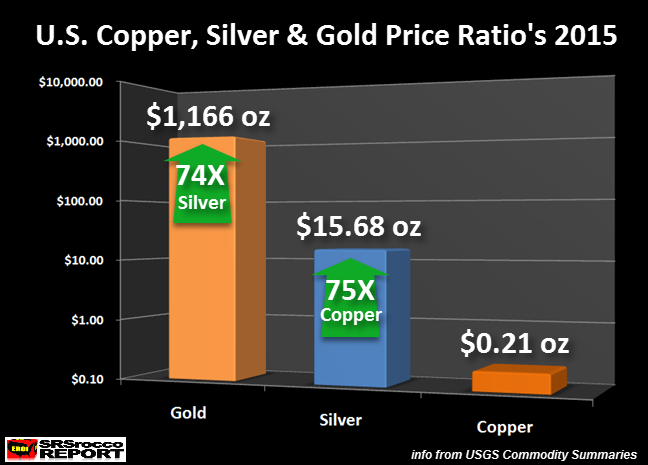 Read More @ SRSRoccoReport.com
We encourage you to Share our Reports, Analyses, Breaking News and Videos. Simply Click your Favorite Social Media Button and Share.