Everything has gone up. The "Trump Bump" has turned into a frenzy…
Nothing is cheap anymore… right?
My friend, you are not looking hard enough…
Something cheap (and hated) is always out there! Sometimes you just have to look past the headlines to find it…
For example, did you know there is an asset out there – that trades in the U.S. – that is currently trading for 50% less than it traded for 40 years ago in 1977?
It's true. Take a look…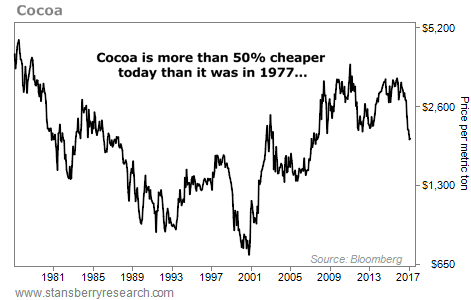 Not only is it down from 1977 prices… It has fallen more than 40% since late 2015!
When an asset is in freefall like this, investors give up on it. Speculators stop buying it. And when it gets really bad, people start betting it will keep falling. And that's when I get interested.
That's when it gets "hated." And boy is this asset hated right now…
Today, the bets against this asset are the largest they've been in more than a dozen years.
Throughout history, bets against this asset have only been larger three other times – in 2000, 2003, and 2004.
Let's look at the 2000 extreme…
The extreme happened at the end of the year. You can see in the chart above what happened next – the greatest move higher in this asset in the last 40 years.
From the 2000 low to the 2002 high, it went up 250% in less than two years.
Today, this asset is as hated as it was in 2000. (The 2003 and 2004 extremes did not lead to big gains… that's the way it goes sometimes.)
So to recap… while stocks have soared, this asset is down 40% in the last 16 months. And it's the most hated it has been in more than a dozen years.
If you're looking for an opportunity in waiting, this is it.
What is this asset, you ask?
It's cocoa. (Yes, the commodity.)
But I am not a buyer just yet…
I don't like to try to catch a falling knife. Instead, I prefer to wait for the uptrend… I like to see the knife hit the ground before I pick it up.
The simple way to buy cocoa through our brokerage account is through the iPath Bloomberg Cocoa Total Return ETN (NIB).
As I said, I'm not a buyer today. But cocoa is on my radar for sure… It's not an "if," it's a "when."
Remember, it delivered a 250% gain in two years under similar circumstances back in 2000.
I suggest putting cocoa on your radar, too…
Good investing,
Steve
Source:
http://www.stansberryresearch.com/dailywealth/3483/the-cheapest-most-hated-asset-today
We encourage you to Share our Reports, Analyses, Breaking News and Videos. Simply Click your Favorite Social Media Button and Share.