By Greg Hunter's USAWatchdog.com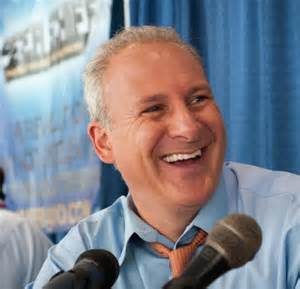 Money manager Peter Schiff says the wild swings in the market are because of massive central bank money printing and exploding debt. What in the heck is going on? Schiff explains, "The real question is what was going on when the markets were going up? That's what made no sense. The fact that they are coming back down to earth makes a lot more sense. I think the catalyst for this move (in the stock market) is, ironically, the tax cuts we got because that put the bigger deficits in the spotlight. Now, the deficits are going to go off the charts because we have to replace the lost tax revenue with more debt."
What about the economy improving under Trump? Schiff says, "Growth hasn't really picked up, it's actually slower. This is all nonsense. The economy is not improving. Nothing is happening other than we are going into huge debt. We got tax cuts, and we borrowed the money to pay for them."
Schiff predicts in the next recession, the Fed will go back to printing even more money. Schiff contends, "There is no question in my mind because the alternative is politically unacceptable to anybody, which would be a worse financial crisis than 2008. When we go back into recession, when we are in a bear market, they are going to go back to the only formula that they think works. They can't do rate cuts because rates are so low, they can really cut them very much. So, the only real stimulus they can reach for is QE (money printing), but it's not going to work this time. We are going to overdose on QE. There are no more bubbles that they can blow. They have already blown the mother of all bubbles, and this is it. There is no more. So, I think when they launch QE4, they get a currency crisis. We get a sovereign debt crisis. That is where we are headed. It's taken a long time to get there, and because of that, the problem has gotten so much bigger. The bubble got so much bigger, so it's going to be much more disruptive."
Schiff points out when countries get into financial trouble, they rev up the printing press to pay debts and expenses. Schiff contends, "We are going to do the same thing, and we are going to pay people off in money that has very little value. That is the real risk. That is why the dollar is already weakening. Last year, the dollar had the biggest drop in 14 years. This year, the dollar is off to its worst start since 1987. That tells you something."
Don't expect to hear Schiff's cutting analysis on mainstream media (MSM). He says he's basically been banned. Why? Schiff says, "Over at CNBC or FOX Business, they just don't invite me on anymore. I haven't been on in years. . . . I think that what they are trying to do is actually silence anybody who is not on board with this narrative. If you don't believe this nonsense about this bull market and this great economy, you are not welcome on their air. They don't want anybody that's going to have a contrarian point of view. They used to have me on a long time ago, so, obviously, there has been a change of policy. . . . Everybody agrees that everything is great. They don't have anybody on to tell the truth. They don't have anybody on to tell their audience they are being fed a bunch of lies."
Schiff predicts, "Now, the crash in the dollar that I envisioned (years ago) and the crash in the U.S. economy is going to be much bigger than 2008 and much more dramatic and devastating to the average American as a result of the delay. We haven't dodged the bullet, we have ended up stepping on an even bigger landmine."
Schiff contends it's not a matter of "if" there is going to be a dollar crisis, it's simply a matter of "when." Schiff points out, "All measures of gold and silver show it is inexpensive. The reason it is inexpensive is many people have the wrong view of the state of the U.S. economy and where monetary policy is headed. That's where the value is because so few understand. It's just like the 2008 financial crisis, people didn't understand what was coming. I did."
Join Greg Hunter as he goes One-on-One with Peter Schiff, founder of Euro Pacific Capital and Schiff Gold.
(To Donate to USAWatchdog.com Click Here)
After the Interview:
There is free information, articles and analysis on both EuroPac.com and SchiffGold.com.
Related Posts:
https://usawatchdog.com/biggest-ever-debt-dollar-crisis-coming-peter-schiff/
We encourage you to Share our Reports, Analyses, Breaking News and Videos. Simply Click your Favorite Social Media Button and Share.