At first glance, lower oil prices seem great! Little guys like us see a small but immediate benefit paying less at the gas pump – maybe saving the average person $5 or $10 or $15 a week. That adds up!
BUT
There are many other things to consider. For anyone who wants to see us stop relying on the burning of dirty fossil fuels like coal and oil, low prices on these products are a bad omen. As Robert Litan noted in the
Wall Street Journal
a month ago, one of the side effects (there are many – see his article
3 Things to Keep in Mind About Falling Oil Prices
) "Lower oil prices will yet again stifle efforts to wean U.S. consumers off of alternative fuels that are more expensive but more environmentally friendly–solar and wind, in particular."
But this will be a response – an effect of lower oil prices. We should be more concerned with the root cause of the oil price plunge. "We're in a major economic collapse on a global scale. Most people do not understand that this is the real threat we face." – Martin Armstrong (article
HERE
)
Less than a month ago, the oil price chart already indicated financial catastrophe at many levels: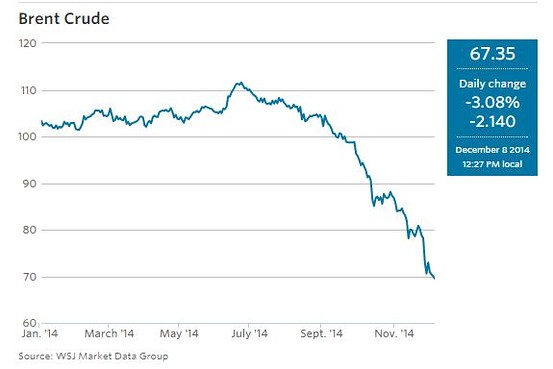 Today (January 6, 2015) the price is around $49/barrel, another 30% decline in less than a month, added onto the already devastating decline shown in the December 8 chart above. WHY? This is an omen of MAJOR problems coming down the pipeline.
Despite all the money creation, despite all the intense printing and digitizing of new "money" into creation, no one is buying up the oil being sold at unexpectedly low prices. This means one of two things:
Those in control KNOW that there is a concerted effort by major powers to drive oil prices even lower and the bottom is not in yet. They are waiting for even lower oil prices before making major purchases. This is possible, if – for example – Saudi Arabia decided they can handle temporary low oil income in order to put new American Shale Oil producers in and around North Dakota out of business. The new supply from the US and Canada could be perceived as a major threat to what was once a Saudi or at least an OPEC monopoly on oil supply – but the new companies in North America need oil around $80-90/barrel to be profitable. At $50/barrel, there will be many bankruptcies in the oil sands and shale oil regions. On a related note – current prices of natural gas, coupled with recent gas deals between Russia and China, have almost destroyed Canada's chances of becoming a major LNG exporter to Asia, as explained in Doug Casey's article at 321energy
HERE
.
In another relevant article "
How Much Oil Goes Missing at $50/Barrel?
" Keith Shaeffer explains how lower oil prices will kill most new American oil companies. Let's say you run ABC Oil Company. You have, as best as geologists can tell, 120 Million barrels of oil under your land. Some is near the surface and cheap to drill for. Let's say 5 million barrels will cost $45/barrel to drill for and pump up. For simplicity, lets say another 5 million barrels exist in the ground on your land at increasingly deeper and more expensive levels at every $5 mark, with the last 5 million barrels requiring $160/barrel extraction costs. You want to borrow $300 million from banks to pay for drills and engineers (etc) to produce your oil and start making profits. The banking industry bases your company's potential value on the profits you could make if everything goes well, based on year end values (as of December 31.)
When Oil was at $100/barrel, all your in-the-ground oil that would cost $100/barrel or more to produce was deemed worthless. But you still had 5 million barrels that would cost $95/barrel to obtain, they would potentially be worth 25 million dollars. The 5 million barrels that would only cost $90/barrel could yield $10 profit and are worth $50 million. And so on down to the best, cheapest barrels that only cost $45/barrel, yielding $55 profit and valued at $275 million. With these numbers your company has potential profits of 25+50+75+100+125+150+175+200+225+250+275 = 1.85 billion dollars, easily justifying a $300 million loan that doesn't seem very risky to the bank. If oil prices rise with inflation (the general trend) then your reserves and potential profits will be even larger.
But at $50 oil prices, most of your oil is now unprofitable and worthless as a reserve unless prices rise. The bank says you have just 5 million potentially profitable barrels that can be produced for $45/barrel. A potential profit of $25 million. Period. Your company has lost 1,825 million dollars in potential profits, down to just $25 million, spread over however much time it takes. Can you make $8 million/year for three years if oil prices don't fall at all? Sure. Will anyone loan you $300 million to get started? No – ABC Oil will be filing for bankruptcy. Maybe the Saudis will buy your land cheap and then go into production after they raise the price on the oil they sell, since they dominate the market and control pricing as a low cost producer – they can sell their product cheaply enough to destroy competitors who need higher prices.
Bye Bye, ten thousand jobs in North Dakota. Bye bye, thousands more in Alberta. Bye bye, hundreds of jobs at refineries, and for truckers and geologists and petrochemical engineers. And that's just for one company. Multiply for an entire industry.
In the video
HERE
, the Saudis say $20/barrel oil is possible – yet they are not cutting production. In normal economics, when capitalism rules and the goal is higher profits, all producers cut production when supply exceeds demand by enough to cause such a collapse in prices. It makes financial sense to cut supply of your product so scarcity will make those who must buy it pay more. Since the Saudis are not cutting production, the goals are not economic but POLITICAL. The cause of falling oil prices may not be based on supply and demand but on geopolitical issues. There is a tangled web of relationships involving the US, Russia, Iran, ISIS… Who suffers the most with low oil prices? Who stands to gain the most?
Even halfway around the world, deals are being cancelled and new production plans halted at current unprofitable prices.
Another possibility is even worse than the explanation involving long-term geopolitics. Perhaps those in control can tell a major economic depression is starting and they are afraid to spend money they may DESPERATELY need soon – with none to spare for bargain investments like half-price oil.
Every reasonable explanation points to major economic and geopolitical problems in the months ahead. Expect a crisis. Have some cash and supplies on hand. Don't count on stability in your job, your investments, or your governments. Crashing oil prices indicate a catastrophic shake-up is coming soon.
* January 12 UPDATE – I want to add two of today's quotes from ZeroHedge – "the core OPEC producers are intent on drowning the shale oil industry in excess supply" and "before the new pricing equilibrium can be established, virtually the entire US energy sector in its current appearance will have to be wiped out!"
For what it's worth, I have been predicting the worst economic devastation of our lives to be in full swing by early 2016. I believe such a crisis is described in the Bible and that it will create the crisis the Antichrist needs to seize more complete power.
If interested in the prophetic angle, check out End Times and 2019 – and – Antichrist 2016-2019
— contributed by David Montaigne, January 6, 2015
We encourage you to Share our Reports, Analyses, Breaking News and Videos. Simply Click your Favorite Social Media Button and Share.