This post It's Do-Or-Die for Gold appeared first on Daily Reckoning.
The major averages just posted their first two-week losing streak since August.
But what about gold?
After a rip-roaring first half, gold is plunging as we enter the home stretch of 2016. We watched precious metals and miners vault to two-year highs just a few months ago as the Fed backed off a summer rate hike and world markets shook in fear of the Brexit vote.
Not anymore…
Gold's trajectory has changed dramatically since late summer. While the major averages have stalled out, gold hasn't attracted many buyers seeking a safe-haven trade. Instead, it has coughed up every ounce of its summer rally and sunk toward 4-month lows.
As short-term traders, we've patiently waiting on the sidelines ever since gold's summer rally started running out of steam. We'll need to see signs that gold is ready to halt its slide before dipping our toes in the water.
Turning to the charts, we can clearly see that it's not yet time to bet on a gold comeback. On Friday, gold settled below its 200-day moving average for the first time since early February.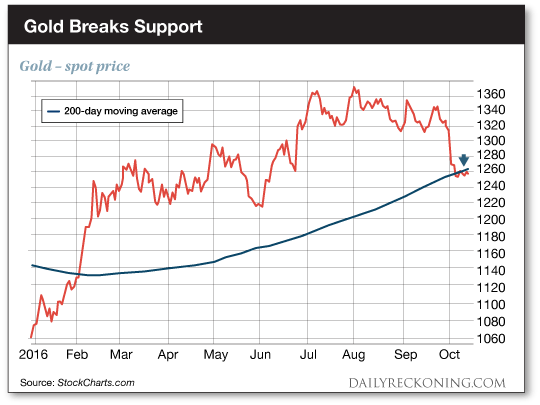 This is a do-or-die spot for gold's short-term prospects. If the yellow metal can't find buyers here, we're probably in for more downside action in the coming weeks.
But when it comes to gold's longer-term prospects, all is not lost. Even mainstream analysts are preparing for a gold bounce once the highly-anticipated December rate hike is out of the way.
UBS analysts are forecasting gold to fall closer to $1,200 as rate hike fears spook investors. But once the dust settles, UBS expects the Fed to pump the brakes, leaving the door open for another gold rally.
"A slow moving Fed and a moderate pickup in inflation should push real interest rates deeper into negative territory in 2017." UBS declares. "Historically, this has acted as a powerful driver of higher gold prices."
UBS isn't alone when it comes to forecasting a post rate-hike gold rally.
TD Bank's head of commodity research is also looking for a 2017 gold rally that will once again test this summer's highs. After an end-of-year selloff, gold futures will push toward $1,350…
"Higher interest rates should initially lead to a stronger dollar, curbing demand for gold," TD Bank's Bart Melek told Bloomberg before the start of the London Bullion Market Association annual conference. "Demand will be reignited as real interest rates, or yields minus inflation, remain low, keeping gold competitive with other assets."
Without a bounce here at key levels, lower prices seem all but certain for gold in the short-term. That means gold, other precious metals, and miners will remain under pressure. That's a major change in character from the start of summer when gold was leaping higher every single week…
Gold futures are sitting near breakeven as we begin the new trading week. If we do see cracks start to appear in the gold price this week, we'll know that the next leg lower toward $1,200 has begun.
As we explained a few weeks ago, the fast money has already moved on to newer and better trades as precious metals and miners continue to retreat from their July highs. We aren't interested in beating the pack back into this trade on the long side only to watch our positions lose money right out of the gate.
But if we time it just right, we'll have the opportunity to ride the next wave higher once the rate-hike obsessed sellers are out of the way…
Sincerely,
Greg Guenthner
for The Daily Reckoning
P.S. Make money in ANY market — sign up for my Rude Awakening e-letter, for FREE, right here. Never miss another buy signal. Click here now to sign up for FREE.
The post It's Do-Or-Die for Gold appeared first on Daily Reckoning.
This story originally appeared in the Daily Reckoning . The Daily Reckoning, offers a uniquely refreshing, perspective on the global economy, investing, gold, stocks and today's markets. Its been called "the most entertaining read of the day.
Source:
http://dailyreckoning.com/its-do-or-die-for-gold/
We encourage you to Share our Reports, Analyses, Breaking News and Videos. Simply Click your Favorite Social Media Button and Share.