This post Here's What Happens After the Market Hits New Highs appeared first on Daily Reckoning.
Everyone seems to believe a nasty market shock is coming any minute.
Yet here we are…
As we dive into today's trading session, the S&P 500 is coming off fresh all-time closing highs. After weeks of churn, the major averages blasted into uncharted territory last week.
Meanwhile, the market's "fear gauge" is getting crushed. The VIX is now rivaling its January lows, closing in on levels not seen in 10 years…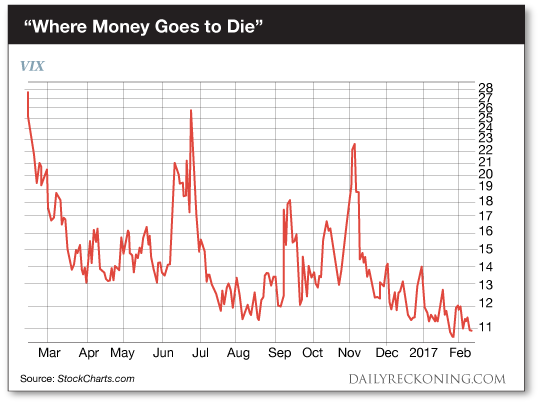 The world is full of more than a handful of unpleasant and events that could pack enough punch to knock stocks off their high horse. But the threat of a Trump trade war or an earnings catastrophe haven't materialized—no matter how many times the talking heads on TV try to summon these ghosts.
"Many investors have learned that the VIX can stay lower longer than anyone can remain solvent trying to predict a volatility spike. As a wag says, the VIX is where money goes to die," Barron's muses. "Yet, stocks keep climbing the proverbial wall of worry that defines bull markets."
The bull marches on. New highs are followed by more new highs, leaving most investors scratching their heads.
How can this be?
How can the market remain so resilient?
Unfortunately, the obsession with all-time highs is a huge distraction. All the big headlines. The Dow 20,000 hats…
At best, it's turning our attention away from the investments that could mint millions. At worst, it's making us all a little dumber every day.
Despite what you might have read on your favorite financial newsfeed, new highs aren't a magical phenomenon.
In fact, almost half of the S&P 500′s closes have been within 5% of all-time highs since 1982. The stats are clear: the market spends most of its time near its highs.
So you have a choice…
You can run and hide from new highs again this year. Or you can strategically follow the best performing groups and sectors to maximize your profits. I'm sure you can easily guess which choice I'm advocating.
Of course, this doesn't mean you should throw your investment dollars at an index fund and call it a year. After all, the averages are just that: average. Sure, a nice round number like Dow 20,000 is great fodder for financial headlines. But it falls woefully short when it comes to measuring the best and worst performers on the market.
Dig just a little deeper and you'll see what stocks are working right now — and which ones will probably continue to underperform. As traders, it's our goal to root out the best performing trends on the market and ride them for as long as we can. With the major averages finally breaking above two months of choppy action, this is the perfect week to reassess what we own—and what we should buy in the days ahead.
Your top goal right now is to avoid the collective stupidity of the all-time highs crowd and trade what you see. Tomorrow, I'm going to share three powerful trends we're looking to play in the days and weeks ahead.
You won't want to miss these hot charts…
Sincerely,
Greg Guenthner
for The Daily Reckoning
The post Here's What Happens After the Market Hits New Highs appeared first on Daily Reckoning.
This story originally appeared in the Daily Reckoning . The Daily Reckoning, offers a uniquely refreshing, perspective on the global economy, investing, gold, stocks and today's markets. Its been called "the most entertaining read of the day.
Source:
https://dailyreckoning.com/heres-what-happens-after-the-market-hits-new-highs/
We encourage you to Share our Reports, Analyses, Breaking News and Videos. Simply Click your Favorite Social Media Button and Share.