This post Why It's a Mistake to Buy Gold Right Now appeared first on Daily Reckoning.
If you own gold right now, maybe it's time to consider taking some profits.
That's because, a unique gold chart I'll show you in a moment is signaling a correction in everybody's favorite precious metal.
We've already seen this correction start to play out in March – and it could have a lot further to go.
That's the bad news. The good news is that the same indicator is also signaling when it makes sense to start buying gold again later this year.
More on that in a moment…
First, here's the chart I'm talking about.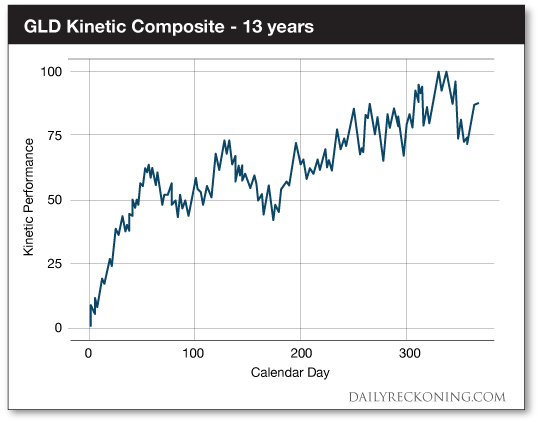 This chart may look a little bit familiar to you if you read last Thursday's issue. In it, my colleague Jonas Elmerraji shared a "Kinetic Composite" chart of the S&P 500 Index. The chart above is actually Kinetic Composite for the SPDR Gold Trust (NYSE:GLD), a popular ETF that tracks gold prices.
In case you missed, it here's a quick refresher on what the Kinetic Composite measures.
"For starters, it's not a typical price chart," Jonas says. "In this case, it's a special composite of the average calendar year for the last 13 years' price action since GLD was launched."
This chart boils down the times when markets are most likely to be in motion year after year – thus the 'Kinetic' part of the name.
"I created the Kinetic Composite as a way to visualize the strongest time to own a stock year after year," Jonas explains. "In other words, from a statistical standpoint, when is the wind at investors' backs?"
In GLD's case, the answer is not now!
Have a look at GLD's Kinetic Composite with some trend annotations drawn on it: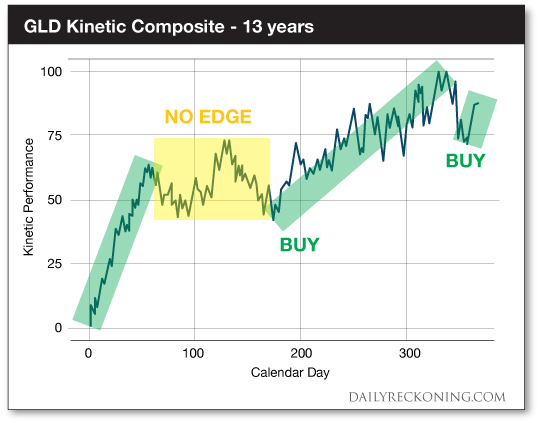 You interpret the Kinetic Composite a little differently from a regular price chart. As you might guess, an upward trend in the chart is a buy signal (it means that the wind is at investors' backs). The tighter and sharper that uptrend, the stronger the Kinetic buy signal it's showing us is. A downward trend is a sell signal.
But a choppy sideways trend doesn't mean that the stock generally trends sideways during that timeframe.
"Instead it means that the data doesn't favor a statistic advantage during that period," Jonas says. "In other words, we don't have an edge."
And when you don't have an edge, you don't want to be exposed to an investment.
As you can see, GLD generally starts the year with a sharp uptrend – one that actually starts before the calendar flips to the new year. That buy signal kicks off on December 23, to be precise.
Then, the trend fizzles out by February 22, and we enter the yellow range on the chart. We don't get another (slightly less attractive) Kinetic buy signal until June 23.
Have a look at how that played out this year in shares of GLD: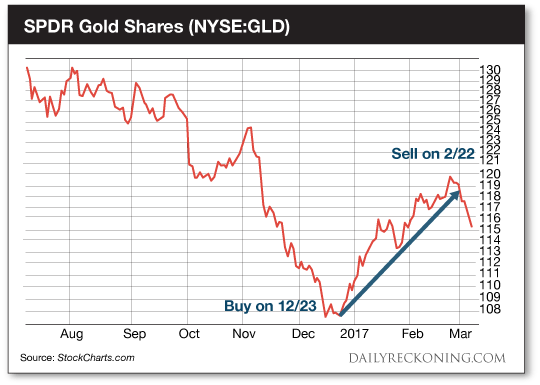 Just following the obvious longer-term signals on the Kinetic Composite chart would have been good for a 9.4% gain in GLD in the last few months.
(And in case you're curious, it was good for about a 20% gain the year before.)
Since GLD's Kinetic sell signal hit two weeks ago, this gold ETF has been tumbling lower. And now we're in that "no man's land" on the Kinetic Composite chart where we don't have a trading edge.
"That means it probably makes sense to steer clear of gold until the middle of the summer, at least," Jonas concludes.
Obviously, the Kinetic Composite isn't a crystal ball. It's not predicting the future – no indicator can do that. Instead, it's simply pointing out the timeframes that are statistically strongest for GLD.
But as I'll show you soon, combining the Kinetic Composite with another simple tool turns it into an immensely profitable combo. Stay tuned…
Today's Kinetic Buy Signal
Now we know GLD's Kinetic buy window just slammed shut.
But there are thousands of stocks on the market. And a new buy signal is triggering in shares of another stock right now: UDR Inc. (NYSE:UDR).
"This apartment REIT has a seasonal window that kicks off at the beginning of March," Jonas says. "UDR's Kinetic Composite bottoms around March 9, and then rallies until May 17. Over the past 26 years, that pattern has had an 81% win rate in the market, paying investors as much as a 28% gain in that short 49 trading day stretch."
When you're looking at statistical market patterns, it's just as important to take a close look at what happens in the rare years when the pattern doesn't work. For UDR, the worst downside in that stretch was a 5% loss.
So, if you decide to buy UDR here, consider parking a 5% trailing stop below your entry price. That guarantees a quick exit if shares start meaningfully diverging from its historical pattern.
Sincerely,
Greg Guenthner
for The Daily Reckoning
The post Why It's a Mistake to Buy Gold Right Now appeared first on Daily Reckoning.
This story originally appeared in the Daily Reckoning . The Daily Reckoning, offers a uniquely refreshing, perspective on the global economy, investing, gold, stocks and today's markets. Its been called "the most entertaining read of the day.
Source:
https://dailyreckoning.com/why-its-a-mistake-to-buy-gold-right-now/
We encourage you to Share our Reports, Analyses, Breaking News and Videos. Simply Click your Favorite Social Media Button and Share.