I would say good morning, but it's been a lousy morning so far – with a profit warning from one of my largest long positions – Revolution Bars (LON:RBG) . So I'll focus on that mainly.
Graham's doing a separate report today – which is taking shape here.
However, I'I need to get my head around what's gone wrong at RBG, and report to you – plus hear your views too of course, in the comments section below.
Revolution Bars (LON:RBG)
Share price: 139.75p (down 31.5% today)
No. shares: 50.0m
Market cap: £69.9m
(at the time of writing, I hold a long position in this share)
Trading update (profit warning) – covering the year (to date) ending 1 Jul 2017.
This is an expanding operator of town/city centre bars with a premium drinks offering (cocktail-driven).
The share price has been clobbered this morning by a profit warning. Let's dig into what's gone wrong.
Revenues – this sounds alright;
The underlying sales performance of the business has remained positive in the second half with like for like sales continuing to grow by 1.7% for the year to date …
The company last reported LFL sales at 1.7% for the 8 weeks to 25 Feb 2017
Prior to that, it reported LFL sales for H1 at 2.0%
Therefore, this implies that LFL sales for the most recent 11 weeks to 13 May 2017 must have been lower than 1.7%, in order to drag the average at the H1 stage down from 2.0% to 1.7%.
In order to estimate the most recent LFL sales performance, I've knocked up a simple spreadsheet (NB. this ignores seasonality):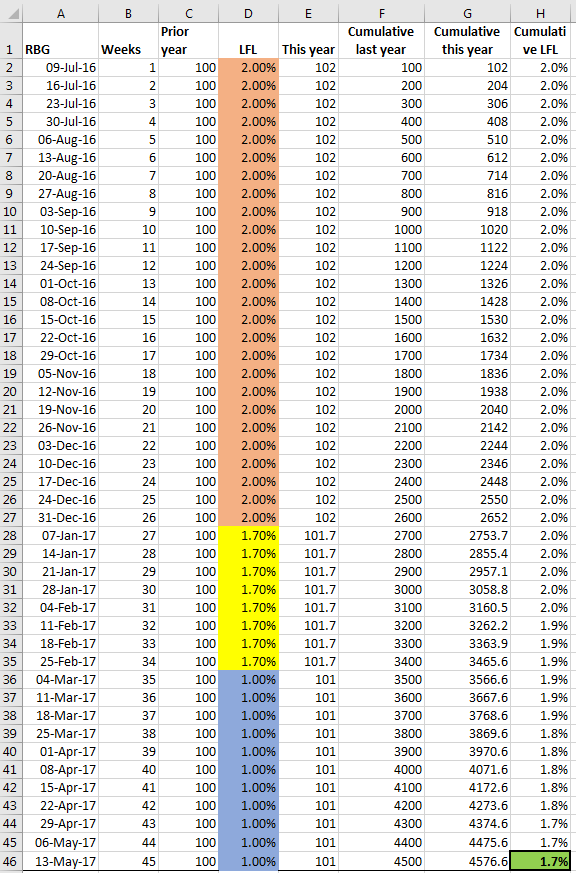 This is all about LFL sales. So in column D I've plugged in the reported LFL sales – the beige section is the 2.0% LFL sales increase for H1, as reported on 28 Feb 2017.
The yellow section in column D is the 1.7% LFL sales also reported on 28 Feb 2017.
The blue section is my estimate, by trial and error, to arrive at a cumulative total of 1.7% LFL for the year to date, as reported today. This is in cell H46 above.
So the key takeaway from this spreadsheet, is that I reckon the most recent 11 weeks trading has softened slightly, but is still positive, at +1.0 LFL. Hardly a disaster.
Gross margins – nothing wrong here. Today's update says;
…gross margins remaining as expected.
What's gone wrong then? It seems to mainly be cost over-runs;
The Company is experiencing the well-publicised sector cost headwinds from the impact of the living wage, the double increase this year in minimum wage, the new apprenticeship levy, as well as the above inflation increase in general business rates. These increased costs will be more than anticipated in the current year.
I've got a problem with this. All those items were already known about. So why is the company now being surprised by these cost increases? Also, why has the company not mitigated cost increases in the way that others have (e.g. Patisserie Holdings (LON:CAKE) which reported this week, and absorbed cost increases through, e.g. more efficient staff rostering).
I suspect the answer might be lack of financial control. After all, Revolution did lose 2 CFOs in rapid succession (for reasons that were not suspicious – as previously reported here). I heard it from the horses' mouth, as the outgoing CFO explained that with young children he wanted a job that involved less travel.
Clearly this is disappointing, but it's actually quite easy to fix. The new CFO needs to sit down with the Area Managers, and thrash out more efficient staff rostering, to reduce costs. Although great care has to be taken to ensure customer service doesn't suffer. Long queues at an under-staffed bar is the easiest way to alienate customers, who may not then come back.
At a previous meeting, management also told me that they deliberately over-staff new sites at first. This is to provide a good initial impression with customers, and to allow staff time to get trained up amp; experienced. So there are natural savings in the pipeline from this factor.
New sites – this seems slightly contradictory to me;
The Company has opened five new Revolucion De Cubas in the last twelve months (and one new Revolution Bar) and whilst the underlying sales performance of these bars remain on track with an average weekly turnover of £43k (net), these bars are taking longer to mature to full profitability than originally anticipated.

Additionally, two key sites were closed for just under two weeks for major refurbishment (Blackpool in March and Cardiff in May). All these sites will make a full profit contribution in our next financial year.
I'm confused. If the new sites are meeting sales targets, why are they not reaching full profitability? Again, that suggests cost over-runs – which can be fixed.
Overall impact – EBITDA flat;
Consequently, due to the timing of profit maturation at the new Revolucion De Cubas and the industry-wide cost headwinds, the Company believes that the adjusted EBITDA (pre-opening costs) out-turn for the year is expected to be broadly at the same level as last year.
That doesn't sound too bad. However, the company's opened 5 or 6 new sites, so we should expect EBITDA (a proxy for cashflow, which is useful in this sector) to be up on last year, not slightly below.
Roll-out unaffected – how you see this depends on your point of view;
The Directors remain confident in the underlying strength of the business, its brands, the strong customer proposition and the business's capability to deliver high returns on invested capital. Consequently, it remains the plan to open six new bars in the next financial year.
A bear on the stock might suggest that the company stops opening new sites, and puts its house in order with existing sites. However, that would be missing the point. The point is that the pipeline of new sites are on exceptionally low rents. Hence, even if they take longer to mature than planned, new sites will still be highly profitable, and represent a very good ROI (which has historically been 38% for new sites).
Broker updates – I've seen 2 notes so far today.
One broker has downgraded its forecast earnings for this year by 12%.
Another has downgraded by 22% this year, and down by 17% next year.
Therefore a 34% drop in share price today seems something of an over-reaction, possibly. Although the lack of liquidity in this share doesn't help.
Valuation – last year's results showed £15.6m adjusted EBITDA. So it sounds as if we're looking at ballpark £15.0m for this year. That's a very cash generative business, with a market cap of only £70m.
Plus remember there's no net debt here, it has a terrific balance sheet.
That looks an absolute bargain to me.
Dividends – as this is only a mild profit warning, I imagine the divis are probably safe. So about 5p payout, would now equate to a 3.6% yield. Not bad, when you consider that most of the cashflow is used to open new sites. Therefore divis are just a bonus at this stage – but should grow considerably once the business is mature.
My opinion – the way I look at profit warnings boils down to one question:
Are these serious, structural problems (in which case I should sell up amp; move on),
Or, are these fixable, shorter term problems?
It seems to me that this is a good example of the latter. The main issue seems to be that costs have been allowed to over-run, probably because of disruption caused by 2 CFOs leaving.
A new CFO should make better cost control a key priority. That should then get profitability back on track. The main thing is that sales are reasonably OK – still positive, although a little softer. Margins are fine.
I really don't see any evidence of serious problems here at all. Management just need to sharpen their pencils, and work out how to mitigate cost increases better, as other hospitality operators are successfully doing (e.g. CAKE).
Overall then, disappointing, but at the current valuation, I think this share could end up looking very cheap indeed, once management has got the cost base under better control (which is mainly wages, in terms of controllable costs).
---
Gear4Music (G4M)
Share price: 723.5p (up 2.8% today)
No. shares: 20.9m after placing
Market cap: £151.2m
(at the time of writing, I hold a long position in this share)
Placing – there have been a couple of interesting announcements from this eCommerce company, specialising in selling musical instruments amp; audio equipment, globally.
I'm really pleased that the company has raised a small amount of additional equity funding. Indeed, at the analyst meeting last week, I urged the house broker to consider strengthening the balance sheet with a modest placing.
My feeling is that a very rapid organic growth business like this should have the financial strength to spread its wings. Often that requires some up-front cash costs.
So this is a good move. It's been well supported by institutions too – which is great, as new institutions coming in via a placing may become follow-on buyers in the market.
I think it was Mark Minervini who wrote that private investors should try to spot the small caps that the Institutions will want to buy in future. Institutions jostling for position in a growth share that is tightly held, can trigger a huge re-rating – as we've already seen here.
New shares – 610,000 new shares have been issued, at 690p. That has raised £4.2m in fresh cash for the company (less expenses).
Note that this is only minor dilution for existing holders – only about a 3% increase in the shares in issue.
Also note that the price was only a tiny discount to the market price, so again very pleasing, and not a problem for existing holders. It was said to be over-subscribed.
Sale shares – management have again cashed in some chips, with 839,000 existing shares being placed with institutions. Most of these (725,000) are the CEO taking some money off the table. Although to put it into perspective, his remaining holding is 7.16m shares. Personally, I don't begrudge him banking some profit – why not, after having achieved such a stellar result for investors already. He still owns 34.3% of the company, so massive skin in the game still.
A 12 month lock-in has been agreed by the CEO on his remaining holding.
Warrants – I hadn't realised there were any warrants in issue here, but it seems there are.
I can't find any mention of warrants in the last Annual Report. So I've put out a query to ask if there are any more outstanding, and what they relate to.
Reasons for fundraising – this is interesting, and it suggests an acceleration of growth plans, which I like.
The CEO says;
"We are delighted with Gear4music's recent performance, but there is much more that we want to achieve as a leading global retailer of musical instruments and equipment.

The Placing proceeds will allow us to accelerate our growth strategy, and quickly scale the business to capitalise on the significant growth opportunities within our markets."
That's music to my ears – badoom, tish!! (I'm here all week, try the veal).
More detail is given;
The Board believes that the Group is ideally positioned to exploit opportunities for further significant growth in its existing as well as new geographical markets. The Board further believes that, having regard to Gear4music's established track record of driving growth through targeted investment in the business, the proceeds of the Placing can be used to fund additional growth opportunities. With this in mind, the Board intends to deploy the proceeds of the Placing in the following areas in particular:
· Accelerated development of the Company's bespoke IT platform;
· Investment in international expansion, including an acceleration of translation activities and additional multilingual resource;
· Supply chain development and inventory investment;
· Further enhancement of the Company's marketing offering; and
· Infrastructure investment, including fitting out of the Company's new UK head office and further development of the German and Scandinavian hubs.
My opinion – this all sounds very positive.
We might have to accept lower short-term profitability, as a result of the accelerated growth plans. Therefore, I don't think PER is a valid way to value the shares during this rapid growth phase.
With more institutional buying likely, it wouldn't surprise me if this share continues rising.
Source:
http://www.stockopedia.com/content/small-cap-value-report-fri-19-may-2017-part-1-rbg-g4m-186427/
We encourage you to Share our Reports, Analyses, Breaking News and Videos. Simply Click your Favorite Social Media Button and Share.