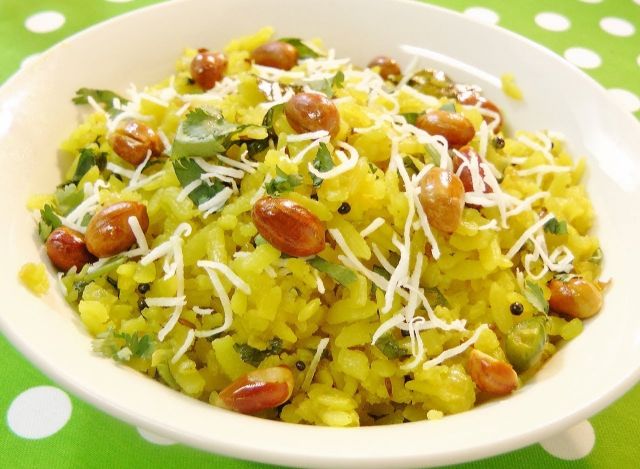 Maharashtrian dishes are one of the lip smacking delicacies that are full of flavors and spices. This food is well known for spicy dishes. Ingredients like wheat, rice, jowar, bajra, vegetables and fruits are important components of Marathi style meal.
Jowar ki roti, Bhakri, type of flat breads form the staple dishes along with lentils and a wide range of bhaajis (vegetarian and non-vegetarian curries) include a simple Maharashtrian diet. The food gets wonderfully strong aroma of spices from their freshly ground spice mix popularly known as Goda masala (black Maharashtrian masala) and the use of garlic and ginger. Here are the 10 most popular dishes that would like to share with you:
1. KANDE POHE
Kande pohe is a very popular breakfast dish or snack served with tea. It is most likely dish offered by his guest at any time of the day. There are number of variations of making this dish that commonly known as Batata pohe (flattened rice mixed with dice potatoes, spices and fresh herbs), Kanda pohe (flattened rice prepared with onion, spices and fresh herbs) etc. Pohe garnished with different things like fresh coriander, grated coconut, crushed peanuts or Sev.

2. PURAN POLI
Puran Poli is a sweetened roti/ chapati stuffed with delicious sweet filling made of channa dal and jaggery. It is similar to the paratha but stuffed with a sweet filling. It is made from jaggery (molasses or gur), yellow gram (chana) dal, plain flour, cardamom powder and ghee (clarified butter) and often eaten after meals or as a snack and is present in almost all festive occasions.
3. TAHLIPEETH
This is a savoury pancake, in Marathi style. Normally uses wheat flour, onion, tomato, chillies and few select spices such as cumin powder and chilli powder. These are served with homemade butter, thecha, curd and pickle.
4. SABUDANA KHICHDI
Sabudana khichdi is an excellent breakfast dish made with sago pearls, spiced with green chillies and seasoned with roasted peanuts and fresh coconut. This dish is a popular dish and is also one of those food items that are allowed to be eaten when people undertake holy fast or upvaas during some religious rituals.
5. PITHALE OR JHUNKA BHAKAR
It is one of the favorite dishes of every Marathi people. If you want to make it at home the steps are simple, crackle mustard seeds in a little oil, add finely chopped onions and sauté till brown then add a pinch of turmeric and salt as per taste, a pinch of asafoetida, add a glass of water and bring it to boil. Once the water boils add in the chick pea flour slowly till it thickens, simmer and garnish with coriander and voila! Dinner is ready. Roti or rice your choice.
All in all, there are many maharashtrian restaurants in Nagpur where you can enjoy spicy food.
We encourage you to Share our Reports, Analyses, Breaking News and Videos. Simply Click your Favorite Social Media Button and Share.