by NTEB Health and Wellness Editor Stephanie A. Buist, ND HC
A mouthful of danger with every rinse
January 25th, 2014 marked the anniversary of the day when the first United States city began fluoridating their water supply. It was an initiative of The US National Institutes of Health. Their goal was to began to study the relationship of fluoride to tooth decay and public health. Fluoride was added to the water supply in Grand Rapids, Michigan starting in 1945. The results of this test were published in 1950 showing a reduction in the number of cavities. The study was supposed to be 15 years in length before it was rolled out to other cities.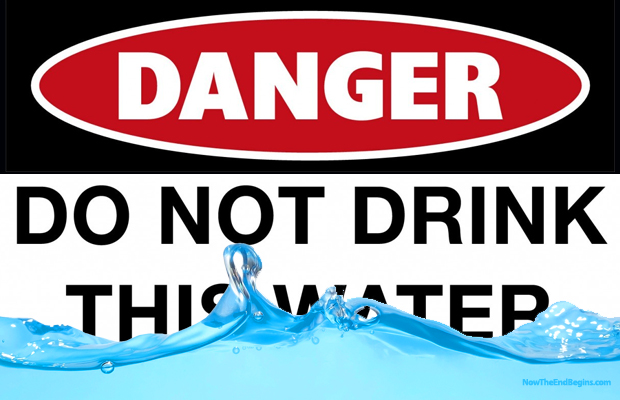 Fluoride was used in Nazi Concentration camps and the gulags in Siberia in order to make prisoners docile and easier to control.
During this 15-year time frame, researchers monitored the rate of tooth decay among Grand Rapids' almost 30,000 schoolchildren. After just 11 years, there was an "amazing finding". The caries rate among Grand Rapids children born after fluoride was added to the water supply dropped more than 60 percent. Fluoridation became the accepted policy of the US Public Health service in 1951 and was rolled out to Muskegon, MI and quickly to other cities across the United States which was many years before the study was completed to determine safety. Yet years later in Kentucky, despite a 1977 fluoridation state-wide mandate, preschoolers cavity rates went from 28% in 1987 to 47% in 2001, according to the July/August 2003 journal, Pediatric Dentistry, Clearly the decrease was not related to the fluoridation.
Today, almost every toothpaste on the market contains fluoride as an active ingredient; water fluoridation projects currently effect over 200 million Americans, and 13 million schoolchildren participate in school-based fluoride mouth rinse programs.
This all sounds good right? There is a very dark side to water fluoridation. I remember as a child hearing my father complain about the tragedy of water fluoridation and the negative effect it had on his patients health. My father was a Chiropractor that practiced in Grand Rapids, MI. Fluoride is a weapon of mass destruction. It is not the reason why there are less dental caries. Industrialization, better food and sanitation was the reason for the improvement.
Did you know that the United States is one of the only developed countries that fluoridates it's citizens water?
More citizens of the United States drink fluoridated water than the combined rest of the world. In Western Europe, 97% of the population drinks non-fluoridated water.
Do countries that fluoridate have less dental cavities?
According to the World Health Organization, there is no difference between tooth decay in the developed nations that fluoridate their water supply and those that do not. The decline in tooth decay occurred equally in fluoridated vs non-fluoridated developed countries.
What is fluoride?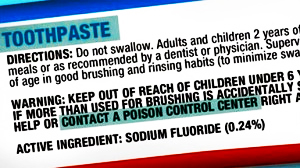 Fluoride is a naturally occurring substance. Because of this, it is promoted by the advocates as safe for use in water. However, it is not the same form that is put into the water.
The fluoride that is added to most water supplies is something called fluorosilicic acid which is a byproduct captured from air pollution control devices in the manufacturing process of phosphate fertilizer.
The Fluoride Action Network reports:
"This captured fluoride acid is the most contaminated chemical added to public water supplies, and may impose additional risks to those presented by natural fluorides. These risks include a possible cancer hazard from the acid's elevated arsenic content, and a possible neurotoxic hazard from the acid's ability–under some conditions–to increase the erosion of lead from old pipes."
The other issue from over exposure is something called dental fluorosis. This is a condition that effects the teeth and bones. It is a toxicity of fluoride made visible. It weakens and destroys the bones of the body.
By this point you are probably thinking that I am overreacting by calling fluoride a weapon of mass destruction. So many things are cancer causing now that we have begun to become complacent about the hazards and most of the time we continue to use and consume the item anyway figuring something will kill us in the end. But fluoride has a much darker side…….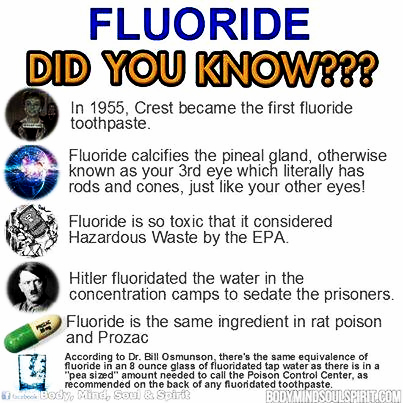 Calcification of the Pineal Gland
The pineal gland is a pea-sized gland in the center of the brain. The name comes from the root word "pinea" which is Latin for "pinecone". Pinecone symbolism appears in the ancient world from the Sumerian, Greek, and Roman traditions, to the Vatican's "Court of the Pine Cone" and staff of the Pope. The pineal gland has been referred to as the "seat of the soul" as well as the 3rd Eye. It has had spiritual connections throughout history dating back to the Egyptians. They believed that it was the spiritual connection point in your body. Many psychotropic drugs have damaging effects on the gland. These drugs include SSRI's and drugs like Cannabis which are said to open up the 3rd eye.
Fluoride can calcify the pineal gland. It is the gland that is responsible for creating the hormone melatonin which controls our sleep / wake cycles. This calcification is believed to cause reduced melatonin and early puberty in girls.
Recently I have been reading that the pineal gland has rods and cones and is truly like the eyes through which we can see. I have not been able to verify that the human gland has this structure. The research that was done was on non-human mammals. I did stumble on this information that discusses the research done on the pineal gland.
The closest information I was able to uncover was this post in Science Daily. Pineal Gland Evolved to Improve Vision, According to New Theory. Notice it is still a theory and this article has been referenced as truth on many websites.
Whether the pineal gland is like an eye or not really doesn't change the fact that we need it for melatonin production and to maintain proper development in children. Mess with puberty and you are messing with future generations and their fertility (or lack of).
Thyroid Gland Malfunction
Fluoride is a halide. The thyroid gland uses iodine to create thyroid hormone. Thyroid hormone has so many important functions from metabolism, to brain function to proper growth and development. The United States soils are so deficient in iodine that Americans are not able to obtain proper levels unless they supplement. To find out the importance of iodine you can refer to a previous post – Iodine the Forgotten Nutrient. When the body is deficient in iodine it attempts to replace it with something else. If a halide such as fluoride is present, it will attempt to use it. Since it is not the proper element, the body will malfunction and hypothryoidism will set in. This disease is very destructive. It is responsible for low brain function, fatigue, heart conditions, increased cholesterol, infertility, ADD / ADHD, Fibromyalgia and cancer – to name just a few. Can you see how this would be disastrous for our human race?
Fluoride Impacts on the Thyroid Gland – READ MORE HERE
NAZI Germany
Fluoride was used in Nazi Concentration camps and the gulags in Siberia in order to make prisoners docile and easier to control. It can be absorbed into the body through the skin, inhalation and ingestion (supplementing via dental procedures or food). Cooking with fluoride in water concentrates it in food and beverages. It cannot be removed through cooking. Only 50% of the fluoride taken into the body can be excreted. It is a cumulative toxin leading to many health problems. Twenty-four different studies have been done to show that it also shown it lowers IQ's in children.
"I say this with all the earnestness and sincerity of a scientist who has spent nearly 20 years' research into the chemistry, biochemistry, physiology and pathology of fluorine–any person who drinks artificially fluorinated water for a period of one year or more will never again be the same person mentally or physically."
Charles E. Perkins, 2 October 1954
Dr.Emmanuel H. Bronner, a former captive in a Nazi prison camp, attempted to expose the global plot to poison the water supplies through several publications.
"As a research chemist of established standing, I built within the past 22 years, 3 American chemical plants and licensed 6 of my 53 patents. Based on my years of practical experience in the health-food and chemical field, let me warn: fluoridation of drinking water is criminal insanity, sure national suicide. Don't do it…. Even in small quantities, sodium fluoride is a deadly poison to which no effective antidote has been found. Every exterminator knows that it is the most efficient rat-killer …. Sodium fluoride is entirely different from organic calcium fluoro-phosphate needed by our bodies and provided by nature."
Dr. E.H. Bronner, The Catholic Mirror, 1952
Before a congressional committee in 1939, an admitted communist conspirator named Oliver Kenneth Goff confessed to planning a program of water fluoridation in the United States. The objective was to "bring about a spirit of lethargy in the nation," so the population would not resist the deterioration of their society at the hands of communism. A review of his full statement is quite disturbing as we see exactly this being rolled out to our country now.
Pharmaceuticals – the last fluoride weapon
There are quite a few pharmaceuticals that contain fluoride. Fluroquinolones have been in the news due to issues – Dr Mercola outlines the issues with this drug. These drugs have adverse affects on the nervous, cardiovascular, muscular, sensory, skin and gastrointestinal system. Massive body destruction.
For an evolving list of fluoridated medications please visit - Fluoride Toxicity Research Collaborative
Fluoride is destroying us. It is dumbing us down, numbing our senses, sedating us, destroying fertility and poisoning us. Due to the amount of information shared in this post, I am making this part one. In Part two I will discuss how to address fluoride exposure and toxicity from a natural perspective.
For additional information the Fluoride Action Network has a website loaded with information.
FlourideAlert.org - F.A.N.tv is home to an evolving catalogue of both full length documentaries and short clips. The videos, which feature FAN's interviews with leading figures in fluoride research, including dentists, toxicologists, and award-winning journalists, seek to shed light on the health concerns with current fluoride exposures and the history/politics of the water fluoridation program.
The post The Fluoride In Your Drinking Water Might Actually Be Killing You appeared first on Now The End Begins.
Source:
http://www.nowtheendbegins.com/blog/?p=22304
We encourage you to Share our Reports, Analyses, Breaking News and Videos. Simply Click your Favorite Social Media Button and Share.