Saudi Arabia building a great wall to insulate themselves from Islamic militants
ISIS has set a pretty impressive goal for themselves, they desire to take the kingdom of Saudi Arabia. As crazy as that seems, given the Islamic State's recent spate of military successes, the Saudis are taking no chances. They have begun construction of a 600 mile long, 1,000km, wall and moat-like ditch that will be designed to insulate themselves from from Iran to the north and Syria to the northwest.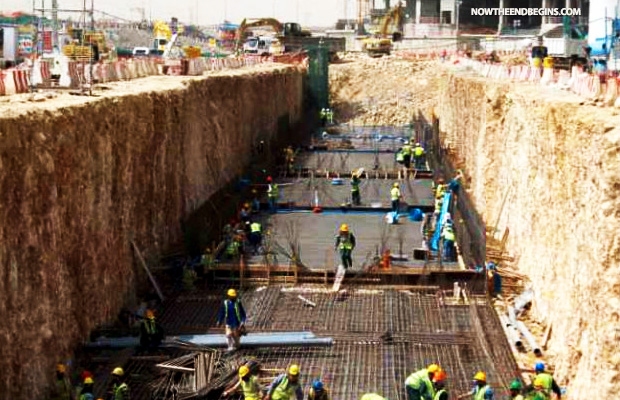 Unlike the United States, the Saudi kingdom takes border control very seriously. This photo, taken 2 days ago, shows the massive construction project in the making.
The wall will feature 40 watchtowers equipped with Airbus SPEXER 2000 radars, day/night cameras, seven command-and-control centers, 38 separate communication towers and 32 military response stations. Whew! Do you think they sense a legit threat?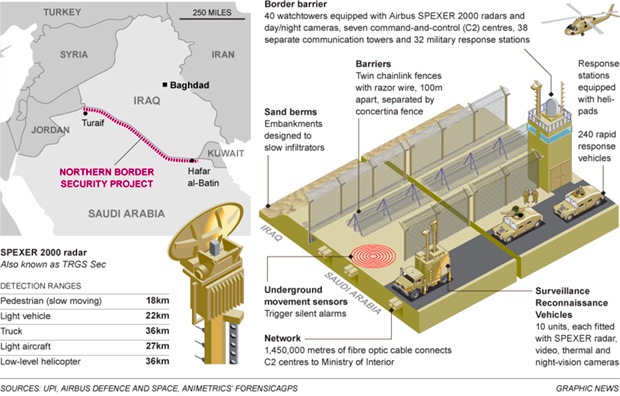 Middle Eastern Kingdom building 600-mile wall and ditch along its border with Iraq in effort to insulate itself from the chaos engulfing its neighbors.
Last week's attack by ISIS that killed a general and two other Saudi soldiers, was no random act of Islamic violence. The ISIS jihadists were trying to stop construction of the wall that will protect Saudi Arabia from ISIS-controlled Iraq immediately to the north.
ISIS is a great a threat to the Middle East in 2015 as Hitler's Nazis were to Europe in the 1940's. The Saudi kingdom is very wise in building this wall, let's hope they get to finish it in time.
The post Saudi Arabia Kingdom Building 600 Mile Long 'Great Wall' To Keep Out Advancing ISIS appeared first on Now The End Begins.
Source:
http://www.nowtheendbegins.com/blog/?p=30138
We encourage you to Share our Reports, Analyses, Breaking News and Videos. Simply Click your Favorite Social Media Button and Share.